What's for lunch today? Leftovers from last night include a heaping piece of the best meaty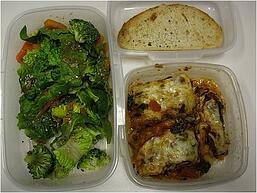 lasagna, gooey garlic bread, salad and a sliver of chocolate cake to top it all off. Sounds amazing, right? You devour everything leaving no crumbs behind and return to your desk stuffed. You glance over a few hours later and see your coworker is crossing things of their to do list left and right while you are suffering at your desk, choking down several cups of coffee just to stay awake. Turns out your coworker went to pump some iron over lunch. What does the fit person next to you have that you don't? Minus the toned arms and svelte figure, they also have more motivation and a higher productivity level at work. Say what?
It's true. Exercising during work can lead to a happier, less stressful, more productive day. Key findings from a study conducted by the University of Bristol, researching the correlation between working out and work performance, included:
Individuals who exercised saw improved time management skills, increased mental performance and better management of their workload
Individuals who fit exercise into their workday were re-energized, calmer and more capable of problem solving
You may be asking yourself where people find the time to exercise during a hectic day seeing as you can barely step away from your desk for a bathroom break. Stellar question. Here's a not so pretty answer: these people don't look for reasons to skip their routine. They work hard before AND after their gym time leaving no room for excuses. Though the physical and mental benefits of exercise should be enough to convince you to work on your fitness, having a supportive atmosphere at work does help.
While there are endless ways to promote wellness in the workplace and make it healthier, Jack Groppel and Ben Wiegand highlight five realistic solutions in a recent article:
Supply low glucose snacks
Give people short breaks before going to another meeting
Promote people walking to meetings on different floors
Suggest "health coaching" courses that teach meditation, yoga and overall health principles
Give people a half-day off before tackling a new assignment
Still finding excuses as to why you can't exercise for a short period of time during your work hours? Check out these top health and fitness apps. Now, you literally have no excuse. Start today. Plan to accomplish a number of tasks on your to do list in the morning. Then, schedule in a break to exercise. Finally, plan to accomplish the remaining tasks on your to do list after your workout. You need to stick with it for at least a week or two. Evaluate if it has made a difference and decide what your next steps should be. I am willing to bet the physical activity has a positive effect on your work life.
Do you think exercising during work can lead to happier, less stressful, more productive days? Share your insight with us below.
We recently interviewed Snap Fitness CEO Peter Taunton. Learn how fitness changed his life by downloading his STSQ Interview.