Mediaspace Solutions' Blue Sky Collective, a group of newspaper ownership groups working together to drive fresh ideas for advertisers, recently launched. The intent of the group is to have regular meetings to identify industry pain points, develop nationally scalable solutions and generate new ideas.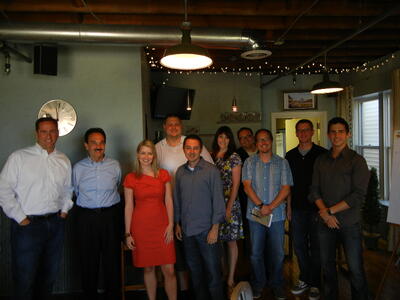 The first Blue Sky Collective consisted of representatives from: Cox Media Group, Digital First Media, Mediaspace Solutions, New York Daily News, Star Tribune and Tribune 365. The group met for a day-and-a-half with the outcome of creating a "grand idea a client looks at and says, 'WOW what a great idea,'" said Dave Chiappe, National Director, Sales, at Tribune365. In addition, Joel Eisfelder, Sales Development Manager at Star Tribune, is "most excited about creating a process that allows us to continue to engage brands with new solutions."
"We deal with hundreds of newspapers every day. What we read about the industry and what we experience are two different things," said Scott Jagodzinski, CEO at Mediaspace Solutions. "As a collective we can create and pave new roads for advertisers to reach newspaper audiences and a further stabilization of our community, in both print and digital platforms."
The group plans to meet again October 15 and 16 in Chicago. If you're interested in joining the Blue Sky Collective or would like to learn more, send an email to Amee Tomlinson at atomlinson@mss-mail.com.