2017 was a fantastic year for the out-of-home (OOH) advertising sector, with many exciting developments offering CMO's greater access to data and more creative opportunities. With 2018 just getting started, we are already seeing some new trends developing in the OOH space that really excite us.
If you'd like to learn how to make the best use of this medium, keep reading to find out what trends are already shaping the industry this year.
Data Gets Creative
It can be said that 2017 was the year that data and OOH started going steady. 2018 sees the couple getting hotter and heavier as interconnectivity begins enabling advertisers to fine-tune their targeting and use data to connect with consumers in increasingly creative ways.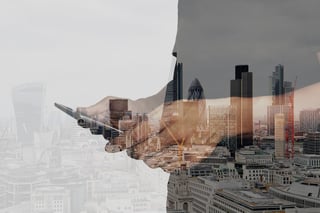 As the year unfolds, it will be interesting to see how marketing teams harness data to create messaging that is completely relevant from the consumers' point of view. This year we will see a continued move away from OOH simply using 2D printed posters to reach audiences, and a move toward providing multi-faceted, multi-channel consumer experiences.
Ad Spend Will Grow
2017 saw much economic uncertainty, which ultimately caused a decrease in ad spending across all sectors. But there is rewed optimism in 2018 in the advertising world, thanks, in part, to events like the Winter Olympics and the FIFA World Cup driving ad expenditure.
And, even further good news, is that after TV and Digital, OOH is poised to see the most ad spend growth. In fact, Magna Global predicts that OOH will grow by an average of 14% in 2018 alone. A recent Adweek poll adds that OOH is seeing significant investment from the tech sector, with 25% of the top 100 spenders in OOH coming from tech companies.
As OOH offers tech companies a powerful way to build their brand profile, we can expect to see more interest from the tech sector in 2018 as more integration between DOOH and mobile develops.
Think Experientially
Today's consumers do not want to look at advertising. They want an experience that includes entertainment, learning, and cause-based programs. Smart advertisers are tapping into this demand and creating experiential campaigns. These create engagement and allow brands to deliver relevant and personal messaging effectively.
Mobile and OOH Fully Converge
In 2017, Nielsen revealed that OOH ads encouraged more online activity per ad spend than any other offline medium. These ads connected to social media channels, and mobile technologies such as NFC, AR and QR codes were used to drive sales and brand awareness.
Mobile and OOH will fully converge in 2018. We can expect mobile location data to provide new ways of measuring OOH viewability by connecting these campaigns to in-store sales. Advertisers are now also able to tell which smartphones have been exposed to OOH ads and retarget those devises specifically. As these technologies continue to converge, brands will more easily be able to get their offer in front of the right people at the right time.
More Small Businesses Will Take Advantage
Let's face it, planning and booking traditional OOH campaigns used to be a real pain. Digital OOH and new tech companies online are making it easier for smaller businesses to book, plan and measure their OOH campaigns. Thankfully we will see more small local businesses take advantage of this easier access.
Want OOH campaigns to be even easier? Then work with an experienced and dedicated media buying team. We will help you leverage the best OOH offers to achieve maximum ROI in 2018 and beyond.