If we surveyed 100 healthcare providers on the ways in which their industry has changed over the past decade, no doubt nearly all would mention the increasing need for excellent customer service. This is due in large part to patients beginning to see themselves as consumers of healthcare, demanding more of their providers and treatment plans. Today's consumers are willing to spend time hunting for the best care instead of settling for less.
While focusing on customer satisfaction seems like a no-brainer to most businesses, the healthcare industry has been a bit slow to adopt patient-centric care. According to the American Customer Satisfaction Index's 2017 Utilities, Shipping, and Health Care Report, hospitals only scored a 75 out of 100 in customer satisfaction for a second year in a row. In fact, the healthcare industry ranks 32nd in customer satisfaction behind gas stations, supermarkets and banks!
But all is not lost. According to Beryl Institute's State of PX 2017 Findings, 74% of healthcare providers are looking for ways to improve their patients' satisfaction. And that's where predictive analytics can come in.
Predictive analytics allows healthcare organizations to engage with healthcare consumers in a way that means they can better allocate marketing dollars and attract the right types of patients.
Big Data – A Prescription for Patient Engagement
If you're new to predictive analytics, let's spend a minute talking about what it is and why you should care.
In a nutshell, predictive analytics uses data (or historical records) to identify the likelihood of future outcomes. Imagine how your business processes and marketing strategies can change if you have a shot at predicting what will happen in the future?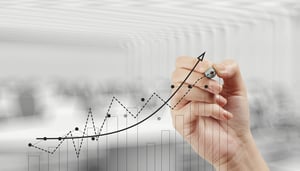 Marketers can use predictive analytics to predict customer responses and purchases, as well as promote cross-sell opportunities. Predictive analytics is what can help you attract and retain customers while nurturing your relationships with them.
Now that you have an idea of what predictive analytics is, here are three reasons you'll want to start using it in your healthcare marketing STAT:
Personalized Marketing Messages
When you use big data to uncover information about healthcare consumers, you're able to craft messaging that is much more personal. Better still, you can personalize messaging based on the stage of their decision-making process.
Increase Conversion Rates
Think about the amount of time people spend online researching health issues and disease. These "digital breadcrumbs" can be collected and leveraged through predictive analytics, which allow healthcare marketers to increase their conversion rates.
Increases ROI While Decreasing Overall Spend
Predictive analytics lets you understand the habits and engagement levels of current, past and future potential patients. This helps you to identify trends, demand and competition. This makes it easier to make better cost decisions, increasing your ROI while decreasing your overall marketing costs.

3 Ways You Can Begin Using Predictive Analytics in Your Healthcare Marketing
Maybe you've already begun to collect data. But if you aren't using it to predict future outcomes, you aren't getting ahead. Here are three ways you can begin to focus on the predictive power of the data around you:
Profile Your Best Patients
Once you've rummaged around your best data sources, use predictive analytics to create profiles of your best patients. What current journey are they on? How far along on this journey are they? What reasons do they have for coming to see you?
Predictive analytics can help answer these questions and guide you on how to turn a prospect into a consumer for life. Once your profiles are created, you can predict what your best patients want, need, and are likely to do next.
Create More Relevant Marketing Campaigns
Now that you have the ability to understand your customer's journey, you can use predictive analytics to uncover the 'next best action'. This allows you to create highly-relevant messaging that speaks directly to your prospect.
Build Loyalty
If you're like other smart business owners, you've probably realized it costs you more to acquire new patients than it does to keep the ones you have. We've already discussed how you can use predictive analytics to create profiles of your best patients. Well, you can also use it to identify patients with high attrition risk. This is a big deal because it gives you the power to take the necessary action to retain them and turn them in loyal customers who sing your praises far and wide.
Predictive analytics takes the guess work out of marketing and helps you make solid decisions that positively impact your bottom line. If you'd like help collecting and leveraging your data, get in touch with us. We help healthcare providers make sense of data and put it to work for them.