Local Digital Advertising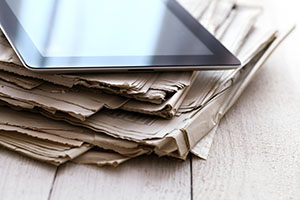 We have an unmatched ability to create and leverage synergistic print and local digital buys to maximize performance in the local market. We focus on local digital display, including local newspaper.coms and local radio and TV sites when creating our plans. Local newspaper.coms are the top news source in the market. With our history in local and national newspapers, we are able to leverage our relationships in the local market to benefit our clients' digital display buys.
We offer our clients:

Competitive rates
Our strong newspaper relationships allow us to negotiate the best rates for our digital clients
We also have relationships with several partners to help us place high volume impression buys at extremely aggressive CPMs
Premium placement
We strategically select pages and placements to optimize CTRs
Above the fold positioning
High-impact ad units
Homepage takeovers
E-newsletters and E-blasts
Human optimization
Performance is monitored daily by our digital team
To increase client results, we move impressions and budget to higher performing ad sizes or sites that produce the best CTRs
We provide weekly reporting on the campaign's performance
Our operations team renegotiates rates weekly
Our preferred ad server is DFA
Our process:
Meet with you to determine needs and expectations
Evaluate targeting parameters (demographic, geographic, behavioristic, contextual, etc.)
Determine how to stretch your local digital advertising budget
Research and identify the best site list based on category and/or monthly traffic
Build a plan and submit to media buyers to quote
Develop a proposal and submit to you for approval
Execute campaign and manage digital assets
Optimize campaign to improve performance
Contact us to learn more about what we can do for your next local digital advertising campaign.