Here's some good news: According to a study by Benchmarking for Newsworks, one that covered 500 econometric models, print ads significantly increase the effectiveness of a marketing campaign. In fact, the study revealed that advertising with newspapers triples ad campaign effectiveness.
Here are some more powerful findings from the study:
Newspapers double the effectiveness of TV ads and quadruple the effectiveness of online display
Newspaper ads are 5.7 times more effective in the finance sector
Newspaper ads are 3 times more effective in the travel sector
Newspaper ads are 2.8 times more effective in the retail sector
Newspaper ads are 1.7 times more effective in the automotive sector
And now the bad news: Many marketers still struggle to get their print ads to peform. They put a lot of time and resources into their print campaign, only to see ho-hum results.
If your print ads haven't been converting, here are 5 things you may be doing wrong:
Your Headline Focuses on Features
You have mere seconds to grab a reader's attention. If they skim your headline and don't instantly understand what your product or service can do for THEM, they will move on.
To hook your reader, make sure your headline leads with benefits, not features. Features describe your product or service, benefits describe how your product or service will help your customer. Be sure your reader instantly knows what's in it for them. Only then will they bother to read the rest of your ad.
You're Writing Too Much
Did you know that human beings have the attention span of goldfish? It's true, we can only focus on things for about 7 seconds then we blip out.
Are you still with me? Just checking.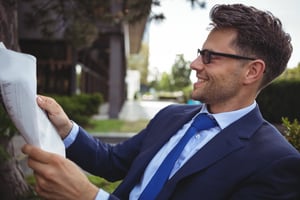 Asking modern man to read a chunky ad with a whole lotta text is like asking your dog to clean your house. It's just not gonna happen. I know, I've asked and the place is still a mess.
Your headline has gotten their attention, and that's a great start, but don't lose them to too many words. Keep it simple, use bullet points, and don't make the font so small they have to squint.
You Didn't Use a CTA
It's important that every print ad you create includes a clear call-to-action (CTA). While the majority of your ad is there to inspire interest, your CTA is there to drive a response. Don't make the reader guess what they should do next, tell them exactly what you want them to do: call for a free home estimate, bring in a coupon, like you on Facebook to enter a free giveaway. Also, make sure your CTA has a sense of urgency, as in, give them a time limit to benefit from your offer.
You're Not Giving People Options
A Direct Marketing Association study found that ads that offered prospects an option of how to respond (say calling a phone number OR visiting a web address), got a higher response rate than those ads that only offered a single option. People like choices so give them some.
You're Not Tracking
Print advertising is not about building brand awareness. Print advertising is direct response advertising. It's about getting people to convert – period. If you're not tracking campaigns, you have no way of telling whether or not it's working. By tracking the ad you can test different aspects of it (headlines, benefits, images) to see if you can increase the ROI.
After reading these 5 common print ad mistakes, can you see how maybe your ads could be performing better? If you've tried these 5 tips and you're still not getting the results you want, get in touch with us. We can help you leverage the data at your disposal to target the right prospects and create relevant messaging that drives action.