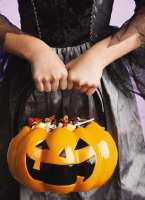 It's that time of year when you see the leaves start to change colors, the days grow darker faster, and the cooler weather starts to roll in. You also start to see more and more Halloween pop up businesses and wonder how a completely vacant building could all of a sudden be so busy for only a couple of months and be gone again.
Halloween, as a holiday, nets more than $5 billion nationally. These pop up Halloween stores are beneficial to everyone. It helps consumers explore costume possibilities all in one store. People who were looking for a temporary job can get easy employment, and those who own those vacant buildings can receive rent for a couple of months versus the building being empty.
Although these Halloween stores really do seem to just pop up, there is a lot of early planning in advance. As soon as Halloween is over, these owners start to find their locations for next year's stores. The merchandise for next year's Halloween season is selected and orders are placed in March. There is also a lot of skill required to hire and manage these types of retail stores.
Some of these sites serve as a great way for a business chain owner to test out a site to see if it would be a good place to make a permanent home for their business. It allows them to sample the type of demographics located around that location and develop research on their consumers. Pop up retail locations are also a great way for the retailers to strengthen their brand during the holiday seasons.
Click the link below to read more about Halloween Pop Up Retails:
http://www.inc.com/magazine/201110/perfecting-the-halloween-pop-up.html