One tequila, two tequila, three tequila, floor. Cinco de Mayo is just around the corner, what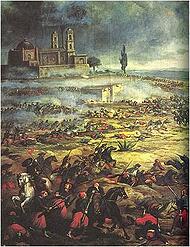 are your plans to celebrate? Chances are it is some crazy fiesta involving margaritas, tequila, tacos, Dos Equis, and more tequila, but do you know why we even celebrate Cinco de Mayo? Many of the partakers in the festivities have no idea what this day observes.
Over time, similar to St. Patrick's Day, the fifth of May has become more of a 'beer holiday' rather than a celebration of the victory of Mexican peasants over French soldiers in 1862. What has caused this significant difference to celebrate and commercialize this holiday? Marketing of course. Did you really have to ask? Advertising has dubbed this holiday as a total booze fest. From Corona to "Fiesta of Flavor," a new offering from Tyson Foods, Tabasco brand and Jose Cuervo, the correlation between Cinco de Mayo and a huge party is without a doubt present within the advertisement.
So, what's the problem? Not everyone digs the connotation of this holiday. Many people, including people of Latin descent, feel the advertising has been taken to a whole another level. Rather than demonstrating an extremely important milestone in Mexico's history, brands take the party route and depict the Hispanic culture incorrectly.
What's a brand to do? Do you take advantage of this huge marketing opportunity around this holiday even though your advertisement may stir the pot? Or do you hold back to avoid being disrespectful? Well, why not have the best of both worlds? Tie in the history and culture of Cinco de Mayo while still catering to your audience. Dos Equis has attempted to do something of this nature for Cinco de Mayo 2012. Their 'The Lost Art of Cinco' campaign involves their well known spokesman, 'the Most Interesting Man in the World,' who masters the lost arts and customs of this holiday. This advantageous approach educates your audience, adds value, and still gets your message across to your target audience. See, you can have your cake and eat it too, with a side of fried ice cream.
Which approach would you take? Let us know in the comments section below.