In long and banal meetings or during class, you might find yourself doodling to pass the time, but recently doodling is being more encouraged at the workplace. Walls are turning into whiteboards, and the surfaces of desks are covered in dry erased boards, which are great for impromptu meetings.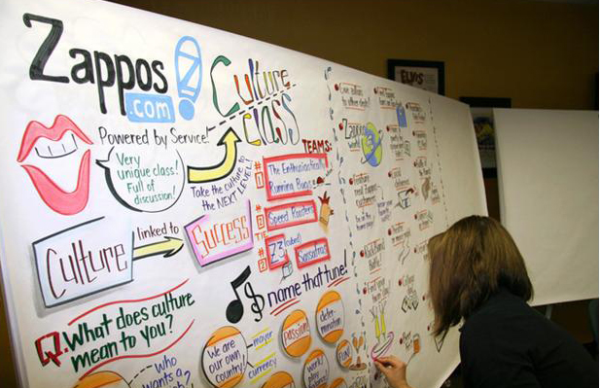 There are also companies who have begun training their employees in visual note taking. HomeAway Inc. and Zappos have actually hired graphic recorders to draw during office meetings and conferences. They are hoping to encourage engagement, idea generation and help communicate complicated topics. The act of "doodling" is also useful for global communication to simplify terms which can be misunderstood through language barriers, plus using white boards is more fun than emails and papers.
If you still think doodling at work is a bad idea, you should know research shows doodlers can retain more information compared to those who do not doodle, according to Applied Cognitive Psychology. Also when you doodle, it prevents your mind from daydreaming.
Are you worried you aren't artistic enough? No one judges you on your doodling abilities. Stick figures, common shapes (squares, triangles, circles), and lines are all you really need to create. If you get more complicated than that, it might become less effective and may cause more confusion.
Convinced you need more doodling surfaces, yet? You don't have to purchase an actual whiteboard. You can turn any wall or surface into a creative area with IdeaPaint products.
At Mediaspace we've taken this to heart and created chalkboards in many of the common areas (including a bathroom) to keep employees engaged and give them a space to share. Topics are as serious as 'Wheat Thins or Triscuits?' or 'If you won the lottery, what's the first thing you'd buy?'
If you're looking for a new method of employee engagement, try the whiteboard, doodling or chalkboard route for innovation, you might be surprised what you come up with. Interested in learning more? Check out our STSQ interview with Greg Heinemann to learn how he encourages innovation in the workplace.