Korean-based electronics consumer company LG has been focusing heavily on their 3D display offerings in 2012. Obviously, the best way to test-drive one of their televisions or monitors is to take a trip to your local big-box home theater store and check out the floor model. Seeing is believing, especially when it comes to television purchases. Even though LG has seen a boost in 3D TV sales throughout 2012, Jillian Lichauco, LG's marketing communications manager for home entertainment, admits that the main audience for this product is still a niche group. With the first-person experience being so important to winning over viewers and a narrow target group limiting interest, how could LG go about pushing 3D TVs to a more generalized audience and break out of the box? Simple – do something with 3D that will wow almost anybody.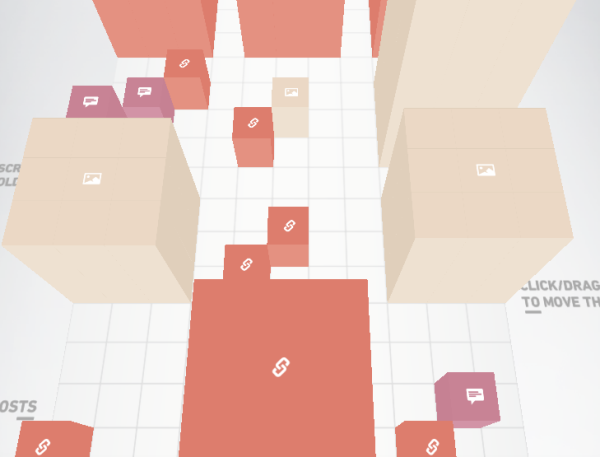 [LG & Perfect Fools - 3D Newsfeed]
Recently LG tapped the creative team over at Perfect Fools to show consumers how everything is better in three dimensions through the creation of the LG 3D Studio; a toolset that allows you to look at all forms of mundane data in visually tantalizing ways. For their first project, Perfect Fools and LG set up 3D Newsfeed, which allows users to connect to their Facebook profiles and visually render all those posts they see as block-like skyscrapers sized up by popularity (the larger the element, the more likes and comments it has). Both 2D and 3D versions are made available for viewing – you'll need a 3D display and glasses for the latter of course. In either case, it's a fun and interesting way to look at your newsfeed and it does a couple things to help LG expand outside the 3D niche. On one hand, it allows potential customers to literally see how 3D technology can add value to something you look at every day. Reading the standard newsfeed is a game of non-stop scrolling through text and image. LG 3D Studio kicks things up a notch, allowing you to read and interact with your Facebook in a fresh and dynamic way. If it can do all that for just your Facebook, just imagine what it can do for your favorite action flick. On the other hand, it provokes interest in the overall experience. While the video embedded below works hard to translate the 3D experience via 2D media, one can't help but wonder what he or she is missing out on from the true 3D experience – after all, that "something's missing" feeling may just be the nudge that gets people into home theater showrooms and in front of LG 3D televisions to see what all the hoopla is about.
Any way you look at it (pun intended), this is a pretty creative way to draw attention to a product. Go take a look for yourself and if you've got a 3D display setup, let us know what we're missing out on.