Creating Content that Matters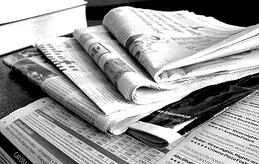 It was recently published that worldwide only 2.2% of newspaper revenues are coming from digital platforms. Did you catch that? Only 2.2%. But this has to change, and newspapers know it. The biggest question is how to make that change.
Clearly people are still engaged with the newspaper both in print and digital formats. The same story referenced above also stated that worldwide more than 2.5 billion people read newspaper in print, and that doesn't include weeklies and Sunday papers. To put that in perspective, that's like reaching every person in the United States, China, Canada, and Europe. And, when you add in the additional 600 million digital readers, you get another United States plus South America.
So the audience is there, but the question is, how do you engage them? And once you have them engaged, how do you keep them? The answer itself isn't that difficult to figure out. However, executing on that answer is where the trouble might lie. First let's start with the easy one, how to actually get people engaged. You basically need to write content that matters. Create content people care about and will get inspired by. And once you have them inspired, you need to give them a chance to share their thoughts.
For instance, take a look at this article from CNN. Regardless of your feelings on the health care bill or what side of the aisle you sit on, this is content that gets people talking, as evidenced by the nearly 11,000 comments since its original posting on Sunday, Sept. 2.
While creating content people will engage with is step one, step two is keeping that engagement going. Granted, with nearly 11,000 comments it's going to be hard, even for the two writers on the CNN story, to respond to every one. The key here is participation. Writing the story today is not the end game. That simply starts the conversation. The next step is to continue it.
A great example of that is David Brier's recent commentary on Best Buy's new tagline, 'Making technology work for you,' which amazingly enough, doesn't appear on Best Buy's homepage. Not only does Brier start the conversation with his opinionated piece on the new tagline and his infographic regarding how not to brand a company, he continues it. Scroll down and look through the comments. How many times do you see Brier's name pop up adding to the conversation and responding to his readers, both those who agree with him and, more importantly, those who don't.
With all that said, what does that have to do with how newspapers can increase the 2.2% digital ad revenue on their sites? Simple really. Once they can show they're having engaging conversations with readers (i.e. consumers) on their digital platforms, they can show advertisers who those people are, when they're visiting, and what content they are most interested in. Advertisers, in turn, understanding the benefits of integrated campaigns can bundle their print and online spend to be associated with the stories that matter to the people, by the writers who understand how not only to engage their audience, but to literally talk with them, throughout the entire conversation.
And one more thing, those writers, and those newspapers, need to engage in and promote their content, not just on their platforms, but the social ones as well. How do you think I found all these stories: Twitter. That's a topic for a different day.
For now, if you want to learn more about integrating your print and online spend? Download our latest ebook, The CMO's Guide to Integrating Print and Digital Media.
Newspaper photo courtesy of NS Newsflash via flickr.