No joke, today's blog was going to incorporate all the research and information that follows,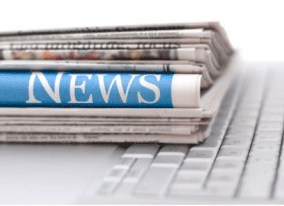 but the headline, that came from lunch yesterday. I met with an aspiring marketer who's in her second year at a well-known Big 10 school, and she was telling me about a course she recently took and the discussion they had in class. That discussion included the decline of print and how it's changing journalism, which is certainly a topic worth exploring. No one doubts or can argue things have been changing in publishing, online and in print, especially in the last six years, but things are stabilizing, and as we've talked about previously, some publications are heading back in the right direction. The key is, let's keep talking about it, and talking about how to fix the news delivery industry so people get the news they want, when they want it, in the media they prefer.
One of those options is magazines, which according to MediaPost saw some promising news in 2012 with the number of new titles popping up, versus those shuttering its doors and pushing its writers to the blogosphere. Pair this bit of good news of hyper-targeted publications having success in 2012 with this headline, also from MediaPost: 'MagBag: 2012 Was A Tough Year For Magazines.' Clearly there's a mixed bag and different interpretations of positivity. The thing to note here is that the big guys, Cosmo, the Economist, Elle, Glamour, Maxim and Men's Health all experienced declines in newsstand sales ranging from 5% to 20%. That's not awesome for the check-out line reading.
Let's turn for a minute to that other print medium, the newspaper. Were you as shocked as I was when you saw this headline in AdAge: 'A Look at Newspapers Turning a Profit -- Yes, There Are Some -- and Those That Are Not.' OK, I wasn't actually surprised since this is pretty much my life and I pay attention to the whole print thing on a daily basis. But I was happy to see it, especially since it may have surprised some of you. The truth is, some newspapers have modified their business model and figured out how to make money in this ever-changing landscape. Is it any surprise one of these is the Omaha World Herald, recently purchased by someone you may have heard of: Warren Buffett. And before we get too excited and start planning the parade route, we find this from MediaPost: 'For Traditional Media, Digital Remains Elusive Promise.' The tough part for newspapers has been figuring out the right way to monetize the digital. The publications are getting better at creating mobile sites, tablet apps and websites that cater to their audiences, but they need to figure out how to tie the dollars to the content, as print revenues stabilize their decline. Take a look at the graph at the left and the full story here, and you'll agree with the headline that the decline of print
isn't the problem, it's the growth of digital (or lack thereof).
In the end, the important thing is this: we're still talking about it, and people are trying to figure out the next steps. Take a look at this LinkedIn group discussion sparked by a blog post titled 'A Short and Sentimental Note About Why It's Time To Move On From Print.' People are still interested, and want to figure out how to tap the local market, and obviously, from the discussion, aren't ready to give up on print. So let's talk about it, and figure out what's next.
If you're looking for ways to identify how to spend your dollars, and the strengths of local advertising, take a look at our most recent research report and let us know in the comments where you see print heading.
Scott Olson is the director of marketing at Mediaspace Solutions. His career has spanned marketing positions in the non-profit, software and utility sectors providing various marketing experiences. You can connect with Scott on Facebook, Google+, Twitter or LinkedIn.