With more than 200 million members in just as many countries and territories, LinkedIn is the largest professional network in the world. Want to increase your reach by 200 million and have the potential to reach consumers in up to 200 different countries? Yea, I thought so. Make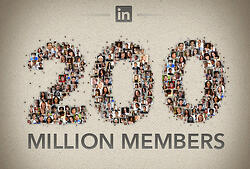 sure your company is represented on LinkedIn with a complete company profile page, including the products/services tab and a link to your homepage, so the professional online community can see what your business is all about. But before you rush off to create or tweak your company profile, take a look at the tips below to ensure your company is set up to realize all the benefits of advertising via LinkedIn. Download the "8 Steps to Increase Advertising Success via LinkedIn" after you finish reading and keep it handy for future reference.
Post Content During the Noon Hour and Early Evening
Researchers have analyzed engagement through shares and click through rates to determine the best times to publish content on LinkedIn. According to the data, businesses and individuals should aim to post content during the noon hour and early evening for the best visibility. Now I don't know about you, but if I know when our content is most likely to get in front of our target personas, then that's when I'm going to publish. It just makes sense to take full advantage of the reach available through LinkedIn.
Use Targeted Status Updates
LinkedIn's Targeted Status Updates allow you to tailor your messaging to specific company followers which increases engagement. Utilize these status updates to start conversations with your followers and build relationships. The follower insights page allows you to track the effectiveness of your updates.
Join Relevant LinkedIn Groups
When you join industry-related LinkedIn groups you increase your company's presence while positioning yourself as a thought leader within your niche. Make sure to abide by the rules of the group. In short, that means don't spam your fellow group members. Share appropriate content. And remember the golden rule: share unto others as you would have others share unto you. It's that simple.
Use the LinkedIn Ads Program
In a prior post, I talked about the LinkedIn Ads program and how it allows you to target
members based on job title and function, industry, company name and a variety of other factors. This program provides you the opportunity to strategically reach your targets based on your budget, allowing you to place ads in a variety of locations.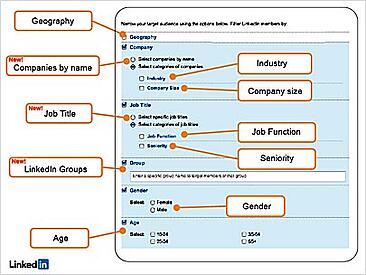 Here are a few advertising tips from LinkedIn:
Use images. Ads with images are clicked up to 20% more times than those without graphics.

Experiment with different messaging or headlines to determine what works. In fact, LinkedIn lets you create up to 15 variations for each campaign.
Be honest. Make sure your ad copy matches up to whatever it is you are advertising.
Adobe, CNBC, HubSpot and the Walt Disney Company are a few of the companies who LinkedIn recognized on their Best Company Pages of 2012 list. Visit their LinkedIn pages and copy a thing or two. Remember, imitation is the sincerest form of flattery.
If you'd like to download the complete checklist, click here. Hopefully the "8 Steps to Increase Advertising Success via LinkedIn" will increase the effectiveness of your advertising on this social media platform. If you missed the Facebook checklist we released earlier this year, download it now. Also, download a free copy of our eBook "The CMO's Guide to Integrating Print and Digital Media" to learn how you can start taking advantage of advertising across multiple media channels.
Hannah Hill is a marketing specialist at Mediaspace Solutions. Her marketing experience includes writing, social media and event management. You can connect with Hannah on LinkedIn, Facebook or Google+.