Whether or not you actually know who Cain Velasquez is, you've certainly heard about mixed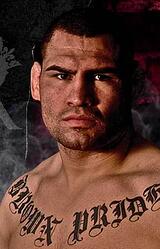 martial arts fighting and the Ultimate Fighting Championship. Either that or you've only been watching PBS and reading The Economist for the past 10 years. Believe it or not, mixed martial arts and integrated marketing have a lot in common when it comes to training and implementing techniques to beat your opponent and achieve your desired result. Let me demonstrate.
In mixed martial arts fighting, most fighters begin with one specialty, whether it's boxing, jiu jitsu, karate or wrestling. In similar fashion, most marketers or marketing agencies have a specialty. Some are best at creative, others public relations and still others buying, planning and placing. In Velasquez's case, he started out as a wrestler at the collegiate level before entering the octagon. What Velasquez had to do, and what good marketers also have to do, is learn to diversify. Regardless of your specialty, whether it's grappling or a ground game (think print creative or event planning), that alone won't get you where you need to be. Reason being: someone with a different specialty or someone who's stronger, faster or better at your specialty is bound to come along. Without the ability to adapt or modify your approach, you're a one-trick pony.
Knowing he needed to add elements to his game, Velasquez became a striker, an aggressor, with premiere cardiovascular skills and staying power. That's what marketers need to do to keep themselves in the game as well. If you're best at getting press attention for your client or your brand, what do you do when there's nothing new to tell, no story to share? If you're good, you come with the next great campaign that gets people talking and create your news. Then you can go back to your bread and butter and bring the focus back to your brand or client's initiative.
The thing to remember is that you can't just jump right into doing something you've never done before and expect to have immediate success. In anything, mixed martial arts and integrated marketing, there's going to be a learning curve, and a process you'll need to follow to get yourself up to speed. Do your research, learn what you don't know and practice it before you take on the heavyweight champion. Velasquez didn't go from a college wrestler to a title fight against the current reigning champion. He fought lesser opponents, on smaller circuits, and got to put into play what he had worked so hard to practice.
The same goes for your integrated campaigns and your skill set as you expand it. Start with your current client base, the people who know you and the ones who you have the most deposits with. The reason is, you need to build your expertise in order to arrive at a point where you can sell those services, and you might need a little forgiveness along the way. Velasquez uses inferior opponents so when he misses a bunch or when he shoots and misses, he doesn't get hurt too badly. You need that same opportunity to learn from your mistakes.
The world of marketing continues to change on a daily basis, and the only way to stay relevant is to get better at what you're already doing, and find ways to expand your repertoire. If you follow the tactics of MMA champ Cain Velasquez and diversify, practice and then dominate, your success will be imminent.
If you need help getting started with integrating your print and digital efforts, take a look at our eBook on integrating print and digital media. And if you want to learn from a leader in creating integrated marketing campaigns, download our interview with Wealth Enhancement Group's CMO and Executive Vice President, John Wernz.
Scott Olson is the director of marketing at Mediaspace Solutions. His career has spanned marketing positions in the non-profit, software and utility sectors providing various marketing experiences. You can connect with Scott on Facebook, Google+, Twitter or LinkedIn.