On Wednesday, May 8, Target announced its new money saving tool, Cartwheel, and it already has more than 50,000 users. The retailer designed Cartwheel to bring guests "a whole new spin on saving" with the hopes that it would be a new driver of sales revenue and bring

customers back into their stores. In order to access the deals available through Cartwheel, Target shoppers must have a Facebook account. From there, they can collect various discounts across multiple departments and earn badges for even more savings. With more than 21 million Facebook likes, Target has an incredibly large online fan base and stands among the top 20 most-liked companies on Facebook. "We've been partners with Facebook for a while, and it's been a mutual discussion on how to integrate and have a savings program with a social element," said Eddie Baeb, a Target spokesman. Target wants you to share your great finds with friends and family via Facebook, and the more you share, the more you save with upcoming offers. Plus, you are able to use each discount multiple times up until its expiration date. The shopper becomes an online advertiser as their purchases are visible to friends through Facebook's News Feed, unless privacy settings are enabled. How many times have you gone to Target for one thing and walked out with a full basket or cart? By enticing shoppers with these coupons, Target hopes to see even more full carts at the checkout.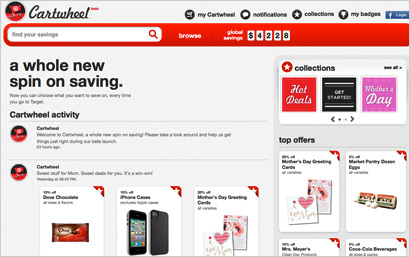 Cartwheel is currently in beta which means Target employees are still working out the kinks while testing the program with a limited group of users. For now, shoppers need to access the coupons through the Cartwheel site (cartwheel.target.com) which is linked on the Cartwheel Facebook page. Target has plans to release Cartwheel apps for Android and iOS in the upcoming months. So far, a variety of coupons have been offered via Cartwheel including 10% off Dove chocolate, 20% off Mother's Day cards, 15% off Nate Berkus bedding and even 10%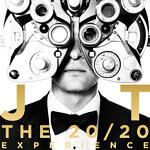 off the latest Justin Timberlake CD, though I'm sure JT's biggest fans would be happy to pay full price.
The idea of offering deals via Facebook is not a new concept. Retailers have been driving business through social media channels for years. According to Monetate, a company that leverages data to create personalized and engaging online customer experiences, store traffic generated from social media is lower than traffic generated by both search and email. But this is probably because search and email have been around longer than social media, so they've had more opportunities to experiment and figure out what works. While some may believe the program to be a lot of work for the small discount received, we have to remember that Cartwheel is still in beta. It is highly likely that Target will be making changes to the savings program continuously through the testing phases and up through the initial launch to create a better user experience. Their ultimate goal is to drive store traffic and sales through Cartwheel, so they'll need to listen to consumer feedback and fix potential bugs. Money-saving junkies like myself will start using the program right away, regardless of the "effort" needed to cash in on a deal. What do you think of a digital retailing program like Cartwheel? Will it work? Let us know in the comments section below.
Just as Target allows shoppers to pair manufacturer's coupons with Cartwheel coupons to achieve greater savings, you should pair print and digital advertising to achieve greater success. Download our eBook "The CMO's Guide to Integrating Print and Digital Media" to learn how you can take advantage of multi-channel advertising.
Hannah Hill is a marketing specialist at Mediaspace Solutions. Her marketing experience includes writing, social media and event management. You can connect with Hannah on LinkedIn, Facebook or Google+.