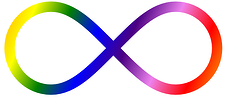 Today the options are nearly endless when it comes to digital ads. Selecting the 'right' ad for your business, whether it's business to business, business to consumer, tangible product, or service, can be very difficult. And things aren't going to get any easier in the near future. One of the main reasons why is that the digital ad world continues to evolve. The rules, the benefits, the tracking, all of this takes time to figure out and then to deploy. Oh, and you have to come up with the right creative to drive action, whether it's click-throughs, video rolls or sales.
Lately there's been a lot of hype about native ads and why and how they benefit both advertisers and publishers. In a recent post on iMedia Connection, Brandon Carter, Marketing Manager at Outbrain, talked about how publishers are involved in the native ad game and what they can do to help advertisers and in the end, themselves. One of his main takeaways is that publishers need to establish rules for their business to live by. By doing so, according to Carter, the "guidelines will help the sales team determine not only which brands to work with but how to work with them." The guidelines can serve as a sort of creative brief, in which expectations are set for both the publisher and the advertiser.
These expectations will be even more important as browser manufacturers update and change their rules in terms of how they treat advertising and the cookies that get placed on the machines of the millions of users on the Internet every minute. There have been a number of articles written about Mozilla's upcoming release and how they will treat native advertising versus the digital ads from ad networks. You could also call this first-party versus third-party. What it comes down to is this: Mozilla is considering blocking third-party advertisers from placing cookies on a user's machine, while first-party advertisers will still have that ability.
The Digital Advertising Alliance is criticizing Mozilla for taking this step and asserting this will hurt advertisers and publishers who rely on advertising dollars to sustain their businesses. At this point, however, the developer of the cookie blocking software, Jonathan Mayer, hasn't perfected his code to differentiate between first-party and third-party cookies. Mozilla was hoping to get the ad-blocking procedures in place sooner rather than later, but it's turning out to be a bit more difficult than anticipated.
While all these conversations are going on regarding native digital ads and cookies,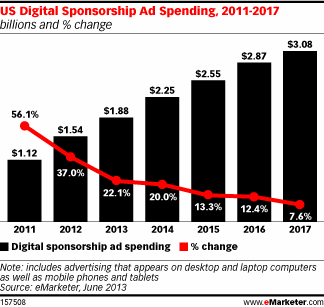 sponsorships are on the rise, according to eMarketer. The reason? Sponsorships are the latest shiny object. They're new and different than ad networks and traditional ad networks, so advertisers are jumping on board to get in on sponsorship opportunities in digital newspapers and magazines. However, what's happened in other digital ad formats is affecting sponsorships as well. The difficult part is defining what a sponsorship is and how to measure it. In the meantime, spending is on the rise, to the tune of an expected $3 billion by 2017.
So what is the 'right' digital ad for your business? Great question. The answer might be one thing today, and something different tomorrow. What you need to do is determine what matters most to you. If you want to know exactly what sites you're appearing on and where, native ads and direct buys are most likely your best bet. If all you're after is impressions and you don't care how or why, ad networks might still be the best route. Two words of wisdom on those though: good luck.
To learn how to do digital effectively, especially local digital, download our latest eBook, The Smart Marketer's Guide to Local Digital Advertising. If you want to learn more from a publisher perspective on native ads, get our interview with John Kerr, director of multimedia sales with The Press-Enterprise, and get started today.
Scott Olson is the director of marketing at Mediaspace Solutions. His career has spanned marketing positions in the non-profit, software and utility sectors providing various marketing experiences. You can connect with Scott on Facebook, Google+, Twitter or LinkedIn.