Google uses the term Zero Moment of Truth to define the moment when you grab your laptop, mobile phone, tablet or other device to learn more about a product or service before deciding whether or not to make a purchase. In that moment (or moments) of truth, you consult product reviews, ratings, company websites and social media to learn as much as you can about a product in an effort to make the most educated purchasing decision.

Here's what Google has to say about the Zero Moment of Truth:
"Whether we're shopping for corn flakes, concert tickets or a honeymoon in Paris, the Internet has changed how we decide what to buy. At Google, we call this online decision-making moment the Zero Moment of Truth -- or simply ZMOT."
The full ZMOT eBook is 75 pages long, so I'm just going to share a few nuggets in this blog post. It's a great read, though, so if you are looking for something to do this weekend, download the eBook.
"Online decision-making is skyrocketing; online marketing budgets aren't"
Today millions of consumers consult online sources like websites, social media and consumer reports prior to even visiting a store to physically look at a product. That number is growing each day. Surprisingly, the dollars being spent on online marketing and advertising are weak in comparison. If you are an advertiser it makes sense now more than ever to get in front of consumers somehow, some way before they set foot in your store, otherwise it will be too late. According to the ZMOT eBook, 62% of shoppers say they search for deals online before at least half of their shopping trips. Just yesterday I was shopping online for a gift for a friend and before I clicked the "checkout" button, I searched for discount codes and coupons for free shipping. Here's another fun fact: 70% of Americans admit to reading product reviews before making a purchase. I recently purchased a new pair of running shoes and that process was a workout in itself. I consulted Runner's World's Shoe Finder, performed several Google searches and visited various retailer websites to read product reviews. All of this for one pair of shoes. Then I grabbed a coupon and drove to the store to make my purchase. If your products aren't visible in online search, then you are missing out on a significant chunk of the market. Reconsider your online marketing budget to ramp up your online presence and gain visibility at the Zero Moment of Truth.
"Today's shoppers carry access in their pockets"
We've all heard the expression "you have the world at your fingertips," and with that access comes endless amounts of information. With just the click of a button or the touch of a screen, today's shoppers can learn everything they want to know (and more) before shelling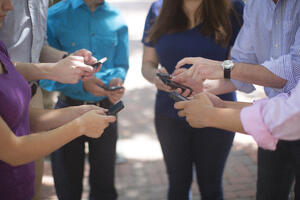 out their dollars for the latest and greatest product or service. "If you're available at the Zero Moment of Truth, your customers will find you at the very moment they're thinking about buying, and also when they're thinking about thinking about buying." The latter is key. If your phone is not physically on your person right now, I'd be willing to bet it's within reach. I'd also be willing to bet you consult your phone (or some other digital device) at some point during your decision-making process. Maybe you pose a question to your social media followers to learn who in your network has valuable consumer information about the product in question. One of my Facebook friends did that recently and received a whole boatload of data from her connections that influenced her purchasing decision. Word-of-mouth marketing has never been more powerful than it is today, especially since it can reach the masses, thanks to the Internet. Make sure your brand has an online presence to encourage engagement and influence consumers at the ZMOT.
That's the ZMOT eBook in a very small nutshell. Remember, you can download the eBook to get the full scoop. As consumers continue to turn to their digital devices to research and learn more about products, digital advertising continues to be relevant for companies looking to make a profit. Check out our free eBook on the benefits of local digital advertising. Click to download The Smart Marketer's Guide to Local Digital Advertising and learn the benefits of advertising locally and how local advertising can affect the Zero Moment of Truth.
Image credit: zeromomentoftruth.com and HubSpot
Hannah Hill is a marketing specialist at Mediaspace Solutions. Her marketing experience includes writing, inbound marketing, social media and event management. You can connect with Hannah on LinkedIn, Facebook or Google+.