When was the last time a newspaper ad captured your attention? Hopefully you don't have to rack your brain too hard to remember. If you read the New York Times on a regular basis you only have to think back to last Wednesday when 20th Century Fox ran a two-page ad for the film adaptation of the best-selling novel, "The Book Thief," which opens November 8. The ad closely aligns with the story's plot in which the main character is a young girl living in Nazi Germany who steals books and shares them with the Jewish man she's hiding in her basement. For those of you who didn't see the ad, it's included below for your reference. Yes, it's the blank white space below this paragraph. You'd be lying if you said two blank pages in the main section of a newspaper wouldn't capture your attention. First, you'd notice the lack of content and think it was a printing error. Then, as you were about to turn the page, you'd see another blank page and maybe think to yourself, "Man, print really is dying." But then you'd notice the small print below the ad containing the URL wordsarelife.com. Maybe you would visit the website. Maybe you wouldn't. But you'd definitely wonder who was behind it and why some advertiser paid $211,680 (at a rate of $105,840 per full-page black and white) to run a nearly-blank newspaper ad in the New York Times. There's a lot to be learned from this newspaper ad, so let's dive in.
In the case of this ad, less really was more. This just goes to show that simplicity in advertising can be powerful. The New York Times was a smart choice for this creative ad unit for a number of reasons. First of all, the New York Times is one of the most widely circulated newspapers in the United States. With an average weekday circulation of 2,999,241, when you combine both its print and digital editions, the publication captures a significant chunk of the population. Secondly, the median household income of its readers is $94,572, which means they have disposable income (music to any advertiser's ears), and more than 60% have a college degree. Print media, such as the Times, is an effective way for advertisers to reach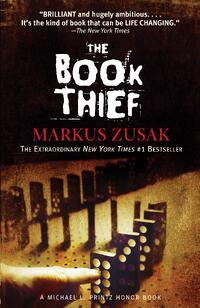 affluent and educated consumers. Download our white paper to learn more about that. Lastly, "The Book Thief" has been on the New York Times bestseller list since it was released in 2005. Newspaper readers are likely the type to curl up with a good book on a Sunday afternoon, so there's a good chance many of the newspaper's subscribers read the book and would be likely to see the movie, especially if they were exposed to an eye-catching newspaper ad like this one.
Julie Rieger, 20th Century Fox Executive VP-Media, said the New York Times was strategically selected as the sole publication to run the ad. "You wonder, what would the world be like without words, without the New York Times. It's a very symbiotic relationship. There are only few things so powerful." Hopefully we never have to experience a world without the editorial and ad content of the Times, let alone newspapers in general. We previously looked at what would happen if we gave up newspapers and it wasn't pretty. This ad gets me thinking about more than a box of Reese's Pieces or Raisinets (my go-to movie treats), though I do want to see the movie. On a deeper level it's an ad for what the future would look like without print. "Without words, life is nothing but a blank page. Words tell our stories. They define our history. They have shaped who were are and who we'll become."
As a bookworm myself, I encourage you to read the book before you see the movie. There is a reason it hasn't fallen off the New York Times bestseller list. Watch the trailer if you need more convincing. Also, subscribe to a newspaper because there are bound to be more innovative print ads you won't want to miss. Remember to grab our white paper 'Proven Methods for Reaching Affluent and Educated Consumers' if you want learn how to improve your reach within that demographic.
RELATED POSTS:
Hannah Hill is a marketing specialist at Mediaspace Solutions. Her marketing experience includes writing, inbound marketing, social media and event management. You can connect with Hannah on LinkedIn, Facebook or Google+.