UJ Ramdas is the co-founder at Intelligent Change Inc. and co-author of The Five Minute Journal. UJ is passionate about bringing together practical psychology and business to create a better world. Mediaspace Solutions had the opportunity to talk with UJ as part of our Shatter the Status Quo (STSQ) interview series, which highlights individuals who have lived the STSQ lifestyle throughout their personal and professional lives. Below is an excerpt of our recent conversation with UJ. You can download the full interview here.
MEDIASPACE: Tell us about The Five Minute Journal and how it came to be.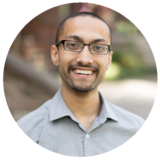 RAMDAS: The Five Minute Journal is a simple product and the premise is it makes you happier in five minutes today. We have research from the world of psychology that tells us what we need to do to be happier from a psychological perspective. There is research on gratitude. There is research on different parts of the brain and the importance of deep emotional bonds. Unless there's a clear system for implementing that research, we don't really get around to doing it.
How the journal came to be is a pretty interesting story. I was taking a walk with a good friend of mine, Alex, who I mentioned previously. We were talking about life, business, morning routines and night routines. He was explaining to me his specific morning routine. I said, "Well, do you have a night routine?" He said, "No." I proceeded to explain to him what my night routine looked like. It was The Five Minute Journal so I've been doing The Five Minute Journal for five or six years now every night before I go to bed.
He said, "This is actually a really cool idea. How about we create this journal for people to do in the morning and at night?" After a little back and forth I said, "You know what, this is a great idea." We got started that day. It was very unexpected. Ideas do come to you when you're taking a walk in the park.
MEDIASPACE: Is there something specific about the five minute time frame that you think makes it impactful?
RAMDAS: The main thing it does is take away the excuse "I don't have time." You do it as soon as you wake up in the morning and you do The Five Minute Journal right before you go to bed. I'll quickly explain the format of The Five Minute Journal. It's a simple book that you keep by your bedside. When you open it in the morning, the first question you ask yourself is,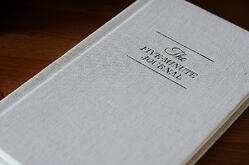 "What am I grateful for right now?" The second question you ask yourself is, "What actions can I take to make today great?" The third question is, "What kind of a person do I want to be today?" and "What's my affirmation today?"
That's how you start the day and it literally takes about three minutes to answer those questions. At night you ask yourself two questions. Right before you go to bed, you take a pen and ask yourself, "What are three amazing things that happened today?" A lot of the time they tend to be small, seemingly insignificant things. If you really dig down deep and look for those moments, you find the day seems more memorable than you thought it was. Finally you say, "If I were to do this day differently, how could I have made it better?" That's it.
MEDIASPACE: What is one way Intelligent Change is making or breaking the rules instead of just abiding by the rules?
RAMDAS: I'm not a fan of rules to begin with, so this one comes naturally to me. We've spent zero dollars marketing The Five Minute Journal. I think it's really important to get the product
into as many hands as possible, and we made some marketing decisions early. We considered a crowdfunding campaign. We considered creating a video, but one of the most important features is to focus on getting the product into as many awesome hands as possible. It's the people who are really behind the product. Unless you have a wow effect, you don't have a business. Kevin Kelly wrote an article called 'A Thousand True Fans' and mentions a similar concept where if you have a thousand influential, cool and enthusiastic people behind your brand, then you have a business. With The Five Minute Journal we basically bootstrapped everything. No publicity firm, no marketing ploy. We just focused on that and that alone and so far so good.
Download the full interview to learn how UJ motivates himself and others to come up with innovative ideas like The Five Minute Journal. Then check out 'The Smart Marketer's Guide to Local Digital Advertising.'
Hannah Hill is a marketing specialist at Mediaspace Solutions. Her marketing experience includes writing, inbound marketing, social media and event management. You can connect with Hannah on LinkedIn, Facebook or Google+.