Undoubtedly, one of the biggest challenges small business owners face is how to keep up with big competitors. Large companies (let alone national chains) have brand recognition and much bigger advertising budgets, and can easily overtake entire markets, both online and in the brick-and-mortar worlds.
But, while it may seem like an insurmountable battle, there are plenty of advantages small businesses have over their larger competitors. For instance, according to the 2016 Edelman Trust Barometer, 80% of North Americans trust family-owned businesses, compared with only 52% for larger, public companies.
In this blog post we'll look at some ways small business owners can win the marketplace battle and bring down Goliath.
Know Your Own Strengths
Let's start off by discussing how not to compete with the big, scary monster. The first rule to bringing down your own personal Goliath is to not fight 'him' in a battle that you can't win. David would have been a complete idiot to try and beat Goliath in a wrestling match.
So, for example, if your larger competitor can easily undercut you on pricing, don't try and win the pricing battle. Instead, know what your strengths are (community building and customer service, for example) and leverage those.
Don't pick a battle you can't win, always keep the fight on your own turf and compete where you know you are strong.
Know Your Competitor's Weaknesses
While at the surface, it may seem like your larger competitor is unbeatable, even large companies with seemingly infinite resources have vulnerabilities. A careful analysis of your competitor will help you identify these weaknesses.
Here are a few key considerations when analyzing your competition:
Who are their target customers?
What is their pricing?
What is their overall marketing strategy?
What is their competitive advantage?
What are their strengths and limitations?
Once you've done a deep dive and analyzed the competition, you'll have a much better idea of any weaknesses they might have.
Exploit Those Weaknesses
Now that you know what your competitor's weaknesses are, it's time to plan your attack. Take a look at their weakness and determine how you can do things better or completely uniquely. The goal here is to determine how you can create your own space in the market where you can win.
It may be that you can clearly see a segment of the population that is underserved by the big box stores or national brands. This would be a golden opportunity to serve an untapped market.
No matter the weakness, always think from the perspective of, "How can WE do things better or differently?"
Leverage Your Inherent Agility
One area where smaller businesses can always outperform their larger competitors is in being agile and flexible. The bigger the company, the harder it is to make changes, whereas smaller businesses can typically respond faster to new trends.
It is far easier for a small business owner to run a special promotion or create a new product or service based on an unexpected event such as a local heat wave or a big news story. If there is a sudden Internet sensation, smaller businesses can capitalize on it, while their larger competitor would need months to put something into motion.
If you've got it (agility) flaunt it.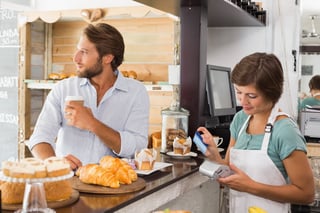 Offer Great Customer Service
This is another area where the smaller guy generally wins. While the bigger guy can create flashier ads and offer lower pricing, it is the small, local business that can develop more personal relationships with their customers, earn their trust, and deliver exception service at every turn. From the customer's perspective, customer service has as much value, if not more, than any product or service. When customers are treated well, they seek to continue the relationship, so you will always be top-of-mind.
These are just a few of the ways small business owners can bring down Goliath. If you'd like to find out some other ways, get in touch with us. We love working with small business owners to help them leverage print and digital channels to widen their reach and get the best ROI possible.