While many CMOs have totally migrated their advertising energies to the Internet because of its cost effectiveness and reach potential, print still remains a powerful component of any ad campaign. However, numerous advertisers who recognize the potential of print are still in the dark about the advantages of newspaper inserts, of which there are many.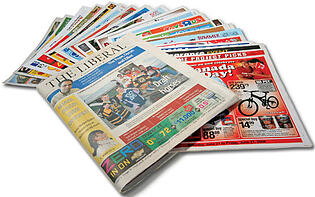 Once thought to be a platform for consumer packaged goods only, newspaper inserts are becoming more recognized as a form of media to promote a wide variety of brand messages. This affordable channel offers quick execution and precise targeting capabilities, is a great way to draw attention to ads on a regular basis, and offers a number of advantages compared to traditional newspaper display ads:
Consumers Love to Shop at Home
Inserts are an effective form of advertising for many reasons, but perhaps the biggest is because they cater to consumers who like to 'browse the aisles' from the comforts of home. Many newspaper readers enjoy thumbing through the colorful inserts to find current deals and view offerings from multiple merchants, so it's a great way to get your offer in front of those who are ready to buy.
Inserts Set Your Brand Apart
Let's face it, consumers are finding it easier and easier to tune advertising out, so you'd better make sure your ads stand out in order to be seen. Newspaper inserts get noticed because they don't blend in with the countless generic ads that all look alike. Have you ever wondered why supermarkets and big box stores have long advertised in this way?
Real Staying Power
After many newspapers have been discarded into the trash can or recycle bin, the inserts will still be picked up and perused. When a campaign's shelf life can be measured in weeks instead of days, it means it has the power to drive traffic long after it is distributed.
Reach a Huge Audience
According to a Consumer Usage Newspaper Advertising Report conducted by the Newspaper Association of America (NAA), 83 percent of adults said they regularly or occasionally read newspaper inserts, and 70 percent had used them in the past 30 days of the survey. That's a huge portion of newspaper readers to get your message in front of.
The Sunday Crowd
Sunday is a day for many things: resting, hanging out with family, and shopping – or at least planning on what you need (or want) to buy. Sunday is the day many, many consumers actively seek out the inserts in the paper. In fact, the NAA reported that 48 percent of adults check inserts most often on Sunday.
Inserts are Cost Effective
Inserts have the same potential as direct mail to reach thousands of consumers but can be had at only a fraction of the cost. This means a campaign focusing on inserts can fit any budget, large or small. In some cases spending more on insert advertising can even trim monthly ad budgets.
A Link between Print and Digital
With the emergence of QR Codes, robust Web portals and personalized URLs, creating a link between print and digital has never been easier. Newspaper inserts have the ability to leverage these links and offer consumers an engaging and interactive online experience. This traditional print channel is no longer static but an opportunity to begin a two-way dialogue with interested consumers.
They're Flexible
In order for advertisers to deliver their messages in a way that is highly impactful and accurate, they must have complete flexibility with their media buys. Newspaper inserts can be ordered as catalogues, cards, or single sheets; and they can also be distributed in large or small formats, on light or heavy stock, and on the day that makes the most sense.
Focused Targeting
By choosing to distribute by ZIP code, market and myriad options in between, inserts give advertisers the power to get their message in front of only those who are part of their target demographic.
The bottom line is advertising with newspaper inserts is a flexible, affordable and creative way to get your message in front of the right consumers.
RELATED POSTS: