Have you heard of geo-targeting but weren't sure what it was or what it could do for you? Read on to find out.
THE WHAT:
Every decade has focused its attention on a different aspect of marketing. The 90s were about creating a web presence for your company. So long 1-800 numbers, hello vanity URLs.
In the 2000s we were all globally-obsessed, making sure our humble websites could be found by the entire world.
But the 2010s have brought us back to common sense marketing and taken our global presence and targeted it so local audiences can easily find us. Google now delivers content and ads based on a user's location. Social networking sites and apps like Foursquare and Yelp cater to the local crowd. Local businesses like florists and hair dressers are able to advertise solely in their local markets.
Geo-targeting is about relevance and delivering the most appropriate and effective messaging possible at just the right time. If you aren't leveraging this powerful marketing tactic, you're not doing as well as you could be.
THE HOW:
Step 1. Decide Which Geographies to Target
In order to determine which locations to target you've got to really analyze your current business. Do this by asking yourself the following questions:
Are your customers from a specific area?

Is your industry stronger in certain geographies?

Where does most of your traffic (foot and digital) come from?
Step 2. Take a Look at Your Competition
Once you've completed this initial analysis, take a look at what your successful competitors do to see which, if any, specific markets they are involved in. What do their creatives look like? What does their ad copy say? Gather as much intelligence as you can. This will help you to potentially find new markets and locations to target.
Step 3. Understand How the Locals Prefer to Consume Media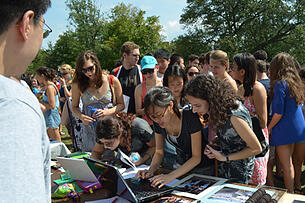 You've got a healthy list of geographies to target? Terrific. Now you've got to understand what the media consumption is of each local area so you may choose tactics and channels that will give you the biggest return on your investment. You may at first assume local search will work best only to uncover that out-of-home communication will be the better buy.
Step 4. Go Small or Go Home
The smaller your service area, the more waste you can cut out and the bigger your ROI will be. Why spend money on mass reach, such as a television spot when cable will work even better? Instead of a full page ad in the Sunday paper, consider using free standing inserts (FSIs) instead.
Geo-targeting becomes even more important when purchasing media for part of a co-op and only attempting to cover certain locations. Consider tactics like shared mail, direct mail, print and mobile that allow you to target on a zip code level. This will cut out waste and only reach the absolute right prospects. A win / win.
Step 5. Identify Your Priority Markets
What happens when your budget doesn't cover the entire desired geography? It forces you to focus on your priority markets and get the biggest bang for your advertising bucks. Your priority markets may be a handful of regional areas or even metro areas. Using this approach will allow you to uncover opportunities that optimize your budget and reach.
Before you develop your next local media campaign, consider geo-targeting. Sure, it may be more thrilling to run a TV ad instead of zip-targeting online or using FSIs. But there's a very good chance your money will be wasted on useless impressions, so make sure your brand will benefit from that level of coverage before making the buy.
These five steps will help you uncover potentially ripe markets, determine the optimal tactics and channels to use for the specific audiences, and identify priority markets so your budget will be spent efficiently. Yes, this initial research will take some time, but in the end the ROI will be completely worth it.
Related Posts: