As the digital landscape has continued to grow and shift and new strategies have emerged, one has become the darling of digital media planners everywhere: native advertising. And yet, with all of its recent popularity, native advertising is probably the least understood digital strategy used by publishers, marketers and agencies alike, who have all embraced it without knowing exactly how it can be used effectively or even if it's right for their brand.
What is Native Advertising Anyway?
Native advertising has proven to be a difficult concept for many to grasp, as definitions of the strategy seem to differ from publisher to publisher, advertiser to advertiser. Some define it as "sponsored content" or featured content that is brought to the consumer's attention by a particular brand. The key feature of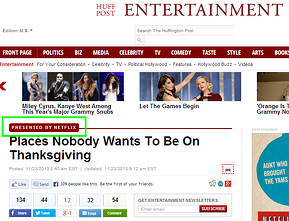 native advertising, however, is that it blends seamlessly with website editorial in an attempt to engage visitors. Native ads can take the form of promoted Tweets to branded feature articles that live somewhere within the Huffington Post. In essence, effective native advertising combines the best of display ads and content marketing, leveraging the ease of paid distribution channels and the power of valuable content.
Are native ads effective? According to a study conducted by IPG Media Lab, consumers look at native ads 52% more frequently than banner ads. Because of their seamless integration with editorial content, native ads registered a 9% higher lift in brand affinity and an 18% higher intent to purchase response than traditional ads.
The Benefits of Native Advertising
Here are nine reasons you may want to consider integrating native ads into your digital media planning strategy:
They Combat Ad Blindness
At this point in time the digital landscape is cluttered with display ads, and consumers have become increasingly adept at completely ignoring them while they browse. In order to combat this ad blindness, advertisers must be able to deliver content that naturally integrates into publishing layouts. In other words, these ads aren't intrusive, and they don't "trick" consumers into interacting with content, but rather engage them in a way that's mutually beneficial.
They Leverage a Publication's Authority and Brand Loyalty
Paid media allows you to reach millions of consumers you might not otherwise have access to, and, like advertising in newspapers and magazines, native digital ads allow you to leverage the authority of someone else's publication and use their brand to bolster your own.
Native Ads Have the Potential to Go Viral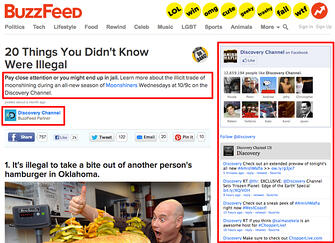 Another advantage native has over display is the potential to go viral. According to a study conducted by Sharethrough and the IPG Media Lab, which surveyed 4,770 consumers on their responses to native ad formats, nearly 1 in 3 said they would share a native ad, while less than 1 in 5 said they would share a banner ad.
These results support the main contention of companies like Sharethrough, which helps publishers distribute their native ads across various channels and platforms, by illustrating that readers are more likely to pay attention to marketing messages that aren't intrusive and resemble the editorial content around them.
Not only do native ads get more attention, they are also easily shared because, like editorial content, they tend to have unique URLs and can be quickly reposted on social media sites with one simple click of a button. Sponsored Tweets and Instagram photos are able to include hashtags that make them more discoverable. And, most native ads exist in formats that allow for live engagement with consumers such as entertainment and news media sites, lifestyle blogs, Facebook posts and Instagram photos, which all contain comments sections allowing consumers to interact with a brand directly on the ad.
Stay tuned for next week's post where we'll list six more reasons why you may want to integrate native advertising into your digital media planning strategy.
RELATED POSTS: