As technology advances and consumers are more able to ignore, if not completely shut off, blatant ads, more companies are turning to native advertising as a way to engage finicky audiences. But what exactly is native advertising and is it right for your business?
Native ads are sponsored content disguised as traditional content. Why is this so effective? Because if you asked a normal citizen the last banner ad they saw, they would draw a complete blank. Unlike ineffective banner ads that are ignored, native ads are embedded directly in places Internet users look for content. According to eMarketer, advertisers poured $1.9 billion into native advertising in 2013. That figure is expected to rise to $4.57 billion by 2017.
Let's take a look at a few examples of native ads:
Here's one for IBM in The Atlantic.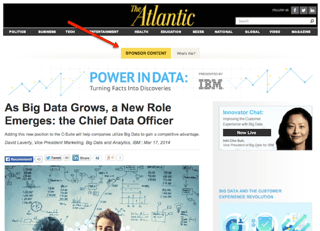 You can see it's labeled "sponsored content" but it matches the editorial style and content around it.
Here's a branded post by Dell in the New York Times: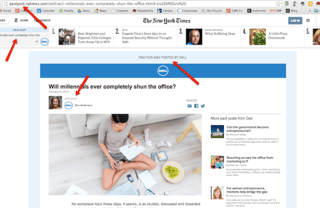 And finally there was this great bit of sponsored content by Netflix found a few years ago in the Times again. This one is subtly promoting their hit show "Orange is the New Black":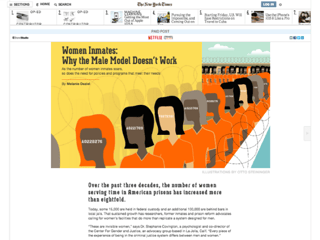 But as effective as native advertising has been for many businesses, not everyone is convinced they should spend time or ad dollars on the endeavor. Though it is a hot marketing trend that is sure to stick around for many years to come, it may not be for everyone.
So how do you know if native advertising is for you? Here are some pros and cons.
Pros:
Native advertising offers many benefits to marketers. Let's take a look at a few of them.
It Increases Brand Visibility
Native ads are located in places where readers want and expect to see traditional content. As a bonus, they are also likely to appear on popular high-traffic websites, which can give brand visibility a real boost. Done the right way, with transparency and proper alignment, branded content can yield a high level of engagement and ultimately a higher ROI.
It Grows Social Reach
It seems like not that long ago only savvy marketers were using social to gain customers. Now everyone and their mother is using social, which makes the marketplace incredibly crowded.
One way businesses can stand out from their competition is by seamlessly integrating native ads into their followers' feed. Industry experts are betting that by 2017, 40% of social media ad spend will be on native social advertising.
It's Generally Less Expensive
Compared to other forms of traditional display advertising and banner ads, native ads are less expensive and more effective. Since they offer a lower barrier to entry, many types and sizes of businesses can take advantage.
Cons:
Here are a few disadvantages to native advertising:
It Can Come Across as Deceptive
Some marketers intentionally use tricky headlines just to get readers to click. Then, when the reader does, they're often not happy about where they land. This makes it harder for honest publishers to use native advertising.
Publishers Receive Backlash
Often when publishers allow native advertisements to appear on their website their traffic goes down, even as their revenue goes up. This then has a negative effect on future ad campaigns.
Google May Penalize Native Ads
Though no one but Google ever really knows why they do what they do, there has been speculation that the search giant penalizes publishers for including native ads on their site. There is also speculation, however, that Google itself is getting in on the native advertising game, so perhaps their views will change.
We can all be sure native advertising will evolve and grow in the coming years, but it's best to weigh the risks and benefits before spending any of your budget. Should you decide that native advertising is a good option for your brand, just be sure to use best practices and you should reap many rewards.
Related Posts
4 Native Advertising Best Practices for Local Businesses

Make Room for Native Advertising in Your Digital Media Strategy

Why You Should Include Native Advertising in Your Digital Strategy

Native Advertising: Marketing Flop or Marketing Future?