History
QR codes, Quick Response, were created in Japan to help keep track of inventory as they were able to store more information than the general bar code. They are not a new thing and have been around since the 1990s. Today QR codes continue to evolve with technology. When a QR code is scanned with a smart phone the user is directed to a website, video, coupon, or other landing page.
Scanners
QR code readers are easily installed on a phone from sites like BeeTagg, ScanLife, Kaywa, and more. The codes are easy to create and many free options are available. Some sites are charging for QR codes. The free Google QR Code Generator is what we used when we created all our mobile landing pages for the codes on our business cards. Some other free sites include delivr and ZXing Project. Search Engine Land has a good tutorial on Google's QR code Generator.
Uses
QR Codes can be utilized in a number of ways. Mediaspace Solutions put QR codes on everyone's business card which directs people to individual mobile landing pages. Other businesses have QR codes on their websites which direct people to their contact information. QR codes are being placed on product packaging to direct users to instructional videos or additional promotional information. Restaurants are using them on their menus to direct customers to recipes. Bus stops, train and subway stations are using them to give users real time information on schedules. And a number of production houses are putting them on movie posters directing users to movie trailers optimized for mobile viewing.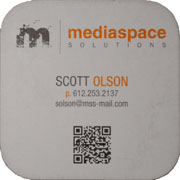 QR codes provide a unique way to reach your audience through a new and convenient means. They also allow you to put any amount of content behind just a small box in your ad, mailer or packaging. They also help increase sites search engine optimization and provide an interactive way to reach your clients.
There are a variety of ways that QR code use can be optimized, once you get started. One way is to make sure that your customers understand the use of the QR code. You can also change the size, color, and location of the QR code. Make sure you track your QR campaigns to see what's working; and don't be afraid to have some fun with the codes. Develop a scavenger hunt or give different QR codes out with one of them being the link for a chance to win a prize.
One of the most creative uses of the QR Code we have seen yet is tattooed onto a man's chest:

Enjoy the video and start thinking of some innovative uses for your QR code.