Mediaspace Solutions' Blue Sky Collective, a rogue consortium of newspaper ownership groups working together to drive fresh ideas for advertisers, held the second meeting of the minds October 15 and 16 at the Digital First offices in Chicago, Illinois. The group came away from the meeting with scalable solutions to offer advertisers surrounding one of the country's largest sporting event, the 2013 Men's NCAA Basketball Tournament.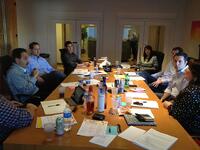 Attendees at this meeting included representatives from: Cox Media Group, Digital First Media, Mediaspace Solutions, New York Daily News, The Philadelphia Inquirer, Star Tribune and Tribune365. "We came into the meeting with a familiarity with each other and a desire to walk away with tangible and actionable steps," said Danielle Prigge, Integrated Advertising Director at Digital First Media. "At the beginning of the meeting we had ideas, we walked away with opportunities for our publications and advertisers not previously available. I can't imagine a better outcome for this group."
"Recently, individual publications across the country have been in the news talking about changes they're making and their focus for 2013. The Blue Sky Collective brings together these individual properties to offer advertisers opportunities that reach across 15 of the top 20 markets nationwide," said Scott Jagodzinski, CEO at Mediaspace Solutions.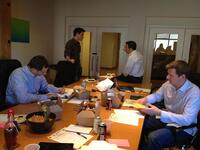 In an effort to continue the positive momentum heading into 2013, the Blue Sky Collective came up with special sections, streamlined ad units and opportunities for engagement, both print and digital, launching March 1 for the 2013 Men's NCAA Basketball Tournament. This turnkey solution gives advertisers the chance to engage audiences in 45 markets, 15 of the top 20, in print and digital media through promotions, contests and a new user experience.
The 2013 Men's NCAA Basketball package is just the first of many upcoming options for advertisers and more details on a number of scalable initiatives the group is working on will be announced shortly. The group's next meeting will be in January at the Cox Media Group offices in Atlanta, Georgia.
This group is creating local solutions for national advertisers. If you want to learn more about the importance of local advertising, and why it needs to be part of your mix, download our report on the 10 benefits of local advertising.