Amidst the current race to find new and profitable digital advertising methods for print publications, a distinctive form of sponsorship advertising known as native advertising has recently emerged as a lucrative prospect to marketers. For those of you unfamiliar, native advertising is a method by which the advertiser tries to make an ad look like part of the content displayed on a webpage, consequently blurring the lines between what is content and what is advertisement. For marketers, native advertising has proven to be a highly effective tool in gaining the attention of engaged audiences online through side by side placement with webpage content. For consumers, on the other hand, native advertising has been the subject of various ethical concerns, considering its' perceived deceptive and content-cheapening nature.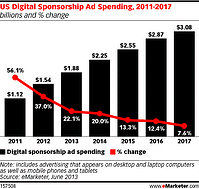 Two weeks ago, we discussed native advertising's potential as a digital money-maker for print publications in our blog. To date, this ground-breaking ad approach has been a hands-down hit online. According to eMarketer, native advertising is responsible for much of what is expected to be a 22% rise in U.S. sponsorship spending in 2013. By 2017, sponsorship ad spending is expected to exceed $3 billion, nearly double the dollars spent on the ad category in 2012. Native advertisements are generating online clicks from consumers, and advertisers are responding with increased investment.
What makes native advertising so engaging for consumers? Because native advertisements are strategically crafted to blend in with and relate to webpage content, they've become known as a way to "break through the clutter" of every day advertisements. By seamlessly intermingling into user experiences, consumers don't disregard native ads immediately like they might for other display advertisements. TechCrunch points out native advertising increases brand perception and engagement because the advertisement isn't "detracting from user experience by merely consuming webpage real estate." In other words, consumers become more engaged with native advertisements because they relate to and share space with content found on the webpage.
Unfortunately for native advertisements, the ad category's most prominent strengths have also turned out to be its' own demons. While native advertising is novel in its ability to immerse itself into user experiences, critics are concerned that such ads potentially confuse readers about the difference between regular content and advertising. Other than a small "sponsored content" label at the top of the ad, native advertisements often appear to be completely indistinguishable from webpage content on the surface. As a result, it can become difficult for consumers to differentiate authentic webpage content from subjective advertisements.
In addition, native advertisements are said by some to cheapen webpage content as a whole. A well publicized example of this took place earlier this year when The Atlantic published a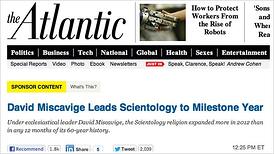 native ad written by the Church of Scientology and admitted to censoring remarks in the article's comments log. By tinkering with an ad that resembled a regular feature article, The Atlantic took a significant credibility hit. Readers claimed they were unaware the article was an advertisement, and were therefore left wondering why only pro-Scientology remarks were viewable in the comments log. Lesson to be learned: Don't censor advertisements that readers believe are standard website content, or do a better job differentiating advertisement from content.
While a few kinks may need to be worked out, native advertising represents a glimmer of hope for online publications starving for a bump in digital revenue. Advertisers and online publications alike will continue to refine native ads so they not only embed themselves in the user experience, but also clearly identify themselves as advertisements to consumers. As important as it is to advertise creatively, it's just as crucial to have a plan in place that will help your campaign reach targeted audiences. Check out our eBook titled The Smart Marketer's Guide to Local Digital Advertising to see how we can help your creative advertising campaign extend its' roots into local markets.
Kyle Stowe is a marketing intern with Mediaspace Solutions. He will begin his senior year at the University of Minnesota this fall majoring in journalism with an expected graduation date of May, 2014. His previous internships include stints with Clear Channel Media and Entertainment and the Walt Disney Company. You can connect with Kyle on Twitter, LinkedIn, and Google+.