The newspaper industry continues to evolve at an increasingly rapid pace and in ways no one imagined it would. With growth comes challenges, and with challenges come innovation and creative solutions. 2014 saw many of innovations and solutions make their mark in the industry, but three particular trends stood out.
Adoption of Mobile-First Strategies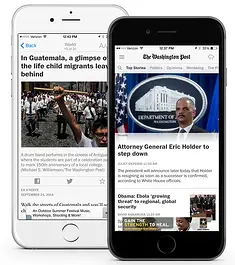 At every single point in its history, the newspaper has had a single goal: to share the news with people in the most accessible way. Up until recently, the easiest way for people to engage with a newspaper was to fold one up, tuck it under their arm, and take it around with them wherever they went. Much of today's audience prefers to take the newspaper around with them on their mobile device.
Newspapers started to reconsider mobile in 2014. Instead of wondering if they really needed to incorporate it into their strategy, many took a mobile-first approach and optimized content for users on every platform. Big players like The Washington Post, that launched a mobile news interface in September, realized the necessity for rethinking the news experience for mobile consumers. 2015 should see even more publications jump on the mobile-first bandwagon.
Native Advertising as a Viable Revenue Stream
There has been much debate about native advertising and whether or not it has a place in traditional advertising channels, and whether or not the tactic is transparent enough and able to be measured accurately. This past year the debate was quieted a bit as both publishers and advertisers saw the revenue potential in incorporating good storytelling that engages readers. In 2014, many publishers came to terms with decreasing display advertising and reader subscriptions and began to embrace native as a new revenue stream with long-term potential for tremendous growth.
Big Data Made Big Strides
Other industries have been successfully leveraging Big Data as a way to deliver relevant messaging to their respective audiences, so it was only a matter of time before the newspaper industry got on board. In 2014, many newspapers became information curators by wading through the data, listening to their readers' preferences, and tailoring their publications accordingly.
Publishers and journalists will continue to leverage big data in the coming year as a way to create better products and customer experiences, and they'll most likely do it in a few specific ways:
Customized Content
It's one thing to listen to the data in order to predict what types of content readers want; it's another thing entirely to customize content that offers each reader a personal and relevant experience. For instance, some publishers may curate content and recommend specific stories to their readers, based on the readers' interests and search history. Others may even customize the homepage so it displays personally relevant stories. Customized news experiences will lead to happy consumers, and happy consumers will lead to brand loyalty.

Product Innovations
Big Data offers publishers not only a means of connecting with consumers in more engaging ways but the potential to create new products and solutions that speak to their readers personally and add value to their experience. Many publishers are already innovating with video content, mobile strategies and reader-focused designs. The better newspapers become at processing Big Data, the more successful they will be at attracting readers, and the more advertisers will be willing to spend their marketing budgets on their digital platforms.
Real-time Marketing Adjustments
One of the biggest benefits of Big Data is its ability to "see" real-time consumer behavior. Newspapers that leverage Big Data will look at real-time behavior and be able to adjust their marketing strategies. By taking a look at their readers' search patterns they'll be able to increase engagement and views by quickly updating the placement of advertisements and stories.
2014 was an exciting year in the newspaper industry. While some still claim that print is dead, newspapers continue to shift and evolve into viable and powerful channels capable of true engagement.
RELATED POSTS:
Image credit: Washington Post, New York Times