According to findings from a Temple University study, direct mail campaigns have a greater effect on buying decisions than digital ads. The study found that participants had stronger emotional responses from physical ads, and that those physical ads left a longer lasting impression.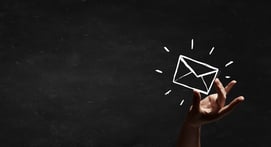 So, whether or not direct mail marketing works is not really up for discussion. What is up for discussion is how to do it the right way and the wrong way.
If you've been struggling to get your direct mail campaigns to work for you, chances are you're making some common mistakes.
Mistake #1: You're Not Leveraging Data
All of your customers are different, so lumping them into one "target" group won't work. To launch an effective direct mail campaign, you've got to spend some time looking at your data so you can properly segment your audience into specific groups. This will allow for more relevant communication that they will actually respond to.
Don't create messaging that speaks to a target group – use data to speak to individuals within that group.
Mistake #2: Using a Not-so-Clean List
If you like missed opportunities and wasting money, then by all means, use a messy list. But if you want a solid ROI on your campaign, clean your database from time-to-time to check for address or name changes, and scrap any duplicate records. No one will think fondly of your brand if they keep receiving two or more postcards from you.
Mistake #3: Your Mailings are Boring and Not Personal
You may think that, these days, a person's mailbox isn't as cluttered as their email inbox, so you don't have to try as hard to get their attention. Wrong! Boring and nonpersonal mail will be tossed immediately into the trash (or recycling bin for those conscientious recipients).
Your communication is still vying for attention so make sure your creatives are creative and grab attention. Always be thoughtful and personal with your messaging. Remember, your goal is to connect, engage and inspire your audience to action.
Mistake #4: You Have No Point
Or if you do, it isn't very clear.
Remember, you've got like 3 seconds to convince a recipient to spend some time with your mailer to digest your offer. If, right off the bat, your message has confused them, you're going in the bin.
Make sure your copy is very clean and makes complete sense. If you don't have someone in-house who is strong at direct mail copywriting, outsource to someone who can create a message that is clear, direct, and drives your desired reaction.
Mistake #5: You're Not Testing
If you have no idea what is and isn't working, you're obviously not testing. And if you're not testing, you're not optimizing your campaigns to get the biggest return.
There are an awful lot of moving pieces to a direct mail campaign, and the chances of you getting everything 100% perfectly right your first time 'out of the gate' are fairly low. A/B test everything, your colors, images, headers, bullet points and calls-to-action. Only when you have reached peak optimization should you roll out big.
Need help with your next direct mail campaign? We help businesses improve their creative execution, expand their market presence, drive action and maximize their budgets, and we can do the same for you. Get in touch with us today.