These days digital signage seems to be everywhere. You can't drive down the street or walk into an airport, sports stadium, hotel, restaurant, corporate building or shopping mall without seeing it. And this advertising trend is expected to continue into the unforeseen future. In fact, the digital signage market is expected to grow from USD $15 Billion to over USD $24 Billion by 2020.
Maybe you've wondered if your business could benefit from digital signage. When it comes to who can benefit from this marketing channel, businesses in nearly every industry can. And that's because it has some powerful uses, no matter what your service or product.
If you've thought about adding digital signage into your marketing mix but weren't sure what it could do for you, here are 5 reasons you'll want to start using it in 2018:
It Helps Tell Your Brand Story
In every other facet of your marketing, you have carefully chosen elements that will help you tell your brand's story. Your color scheme, logo, and mission statement – these all help shape the perception consumers have of you.
Digital signage puts you in control by allowing you to choose exactly which engaging digital content your audience sees and when. From written content to images and videos, digital signage can be used to build brand recognition as well as market your products and run special promotions.
It Attracts Attention
We're not sure if you've noticed, but it's getting harder and harder to attract (and keep) consumer attention. There are simply too many other companies, online and off, competing for the same business.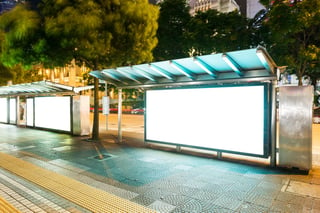 The beauty of digital signage is that it truly engages and draws the viewer in. High definition displays combined with rich, vivid colors break through the noise to capture consumer attention and imagination. And that's a powerful way to truly connect with customers.
It Connect to the Web
And speaking of powerful connections, digital signage displays can easily connect to the web. This means you can offer your customers everything from weather updates to Twitter feeds, blog posts and videos from popular sites like Youtube and eHow. This can be very helpful to businesses who want to educate their audience on specific topics. For instance, a physician's office could display health facts while a mechanic could display how-to-car-maintenance videos from their Youtube page.
It Lets You Update Content Easily
One of the biggest advantages to digital signage is the ease of use. With one click of the mouse you can update your content. For example, a deli could use a series of digital menu boards displaying various menus as the day progress. When the lunch crowd starts arriving, a simple click will swap out the breakfast menu with the lunch menu.
It Influence Buying Decisions
Most business owners wish they could get inside their prospects' heads and whisper, "Buy! Buy!" Well, digital signage can almost do that. Not only can digital signage influence regular buying decisions, it can also inspire impulse buys. According to a digital display study by Arbitron,19% of consumers claim they've made an unplanned impulse purchase based on digital ads they've seen instore. Need we say more?

At the end of the day, you're most likely looking for ways to connect with consumers, and digital signage can definitely help in that department. Beyond engaging consumers now, digital signage is also part of a growing infrastructure that will join forces with some pretty incredible technologies in the near future such as beacons, wearables, etc.

When you consider the influence it has on perception and combine that with the ease of use, you understand why more businesses in all industries and verticals have turned to digital signage as a way to grab customer attention and incite action.