You spend your time helping others get rid of their pain. But when it comes to your own marketing, do you wish that someone could take that pain away from you? If so, keep reading to learn 6 different things you can do to give your marketing strategies a much-needed adjustment.
Claim Your Channels
Before a consumer decides to book an appointment with you they go through a long process of research. Today's consumers vet and compare healthcare providers as they do any other product or service. If you want to get on their list and stay there, you've got to make sure you are visible online.
How do you do this?
Besides having your own optimized website, it's important that you claim all of your channels such as review sites like Yelp and Healthgrades. Also, be sure your information (address, URL, phone number) is correct and up-to-date. And finally, encourage your clients to rate and leave feedback. Social proof is what gets prospects to pick up the phone and call you for an appointment.
Use Paid Traffic
When people have back pain, they tend to go to Google and search for someone who can help. Think about creating Google Adsense ads that focus on terms like "Chiropractors near me" or "chiropractors your town name." If you target a small radius of even just 5 miles, you can keep your ad costs low.
You can also try running some ads on Facebook. Right now, costs are very low on that platform and local businesses can do well spending just $10 a day. There's a very good chance much of your local audience is already hanging out on Facebook, so why not get in front of them with a discounted offer?
Wherever you decide to buy your traffic, you'll definitely need to track your ads to see which are winning and which are losing. Cut the losers and scale the winning ads.
Create an Email and/or SMS Campaign
When is the last time you bought a product or service from a complete stranger? It has NEVER happened!
Consumers need to be taken through a process whereby they get to know, like and trust you. This is called nurturing a cold audience.
So you've got your website set up and you're running some paid traffic campaigns. What are you doing with all that traffic? If you're like a lot of chiropractors, you're sending it to your home page.
Bad idea!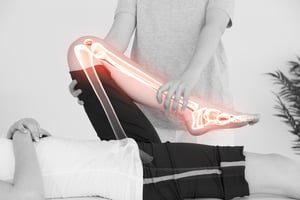 You've paid for the traffic and you need to CAPTURE it before it gets away. If you direct people to your home page, those people are likely to poke around and leave. And you've lost them AND your ad budget for good.
Capture those leads by providing something useful. Think about creating a 3-part free video series on common back pain issues and some simple exercises that may help. I exchange for this valuable information, the person will give you their contact information. Get their name and email, and if possible, get their cellphone number as well. This way you can begin an email AND text message nurture campaign. Less people are checking email these days but everyone is hooked into their texts almost 24-7.
These nurture campaigns should continue to add value. Don't sell to them. Spend some weeks and months sending out helpful information and then you can put an offer in front of your now warm audience for a free back adjustment or free consultation to get the prospect in the door.
Maintain a Blog
Take every opportunity to teach people in your community about health and the services you provide. Adding content to your blog consistently will help to show you are an expert in your field. When someone is looking for a chiropractor and they see the amount of helpful content, they are far more likely to pick up the phone and call your office.
Start a Youtube Channel
Video marketing continues to be a main way business owners capture consumer attention. And it can be particularly helpful to healthcare practitioners. If someone has never been to a chiropractor before, they may be a little nervous and want to know what it will be like.
This, again, is your opportunity to educate prospects on the benefits of chiropractic care. You can also show off your own personality and the personalities of your staff.
Video marketing is powerful for just about any business, but particularly for healthcare providers. By creating videos that answer common patient questions about back health, you will allow prospects to get a sense of you and put them at ease.
You'll also want to put client video testimonials on your Youtube channel to help you promote your practice.
Don't worry, you won't need any fancy equipment for these videos. Most business owners can make great-looking videos with their smartphone, Be sure to pay attention to lighting and sound.
Also, the video should be short. Most effective video testimonials are just 30-60 seconds.
Get Your Ads in Local Print Publications
Your local newspaper is a trusted authority in the eyes of your potential clients. Just by getting your ad inside, you will have already leveraged some clout. Think about what other local print publications might make sense to advertise in. Is there a publication that caters to athletes? Senior citizens? Both of these groups include people who may benefit from and be interested in your services.
These are just some of the marketing ideas chiropractors can use to bring in more business. If you could use some extra help with your healthcare marketing campaigns, give us a call. We specialize in helping providers make the most of their data and budgets.