Exhibiting at trade shows is an excellent way for your company to meet with current customers face-to-face, attract new prospects, and build a more established and reliable brand. But as beneficial as exhibiting at trade shows can be, it is a substantial investment of time and money. That is why it is incredibly important to make sure you get the greatest return on your investment.
Here are 7 print marketing tips for successful trade show exhibitions. By following these tips, you will ensure you make the best impression and generate the most leads.

1. Define Your Goals Beforehand
Visitors to your tradeshow booth are a bit like visitors to your Facebook page. It's great to be "liked," but ultimately what do you want these visitors to do once they arrive?
Define specific goals for the show before designing any print collateral. Is your goal to secure a certain number of orders? Or do you want to generate a certain amount of qualified leads? Once you know your ultimate goal, you can create your collateral around it.

2. Create Takeaway Collateral
If you will be involved in panel or roundtable discussions, you'll need to have material prepared ahead of time. Those individuals attending these sessions will want and expect something tangible they can take with them after the event has ended.
Be sure to have your website and social media accounts on the material so attendees can find more information about you online.

3. Think Out of the Box
Your print collateral has to stand out from dozens or even hundreds of other pieces of collateral given out that day. Get creative and use a template or design that is eye catching. Remember, most of the collateral handed out will wind up in the trash. Keep yours out by designing something visually appealing that also imparts valuable information.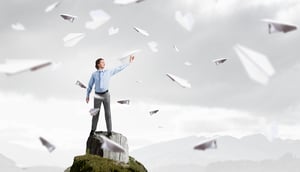 4. Double It
You'll always need more print collateral than you first think you will. It's better to have leftover collateral, such as brochures and business cards, than to not have enough. You can always use your leftover collateral at another tradeshow, but you can never get missed marketing opportunities back once they're gone.

5. Giveaways – Print Marketing 3.0
Let's face it – everyone loves free stuff – everyone. You can print your company name, logo and contact info on a business card, or you can print that same information on pens, frisbees, calendars, or tote bags (the items are endless). While these items may cost a bit more, they will help you stay top-of-mind with your customers and prospects for days, weeks and even months.

6. Integrate Online and Offline Efforts
As people come and go from your booth all day, many of them will take to social media to talk about your brand. Be sure you have someone on your team whose sole purpose is to monitor brand mentions.
You can also boost awareness of your brand by taking pictures with other attendees and sending out tweets. Just be sure to use the event hashtag.

7. Follow Up
You've gone through the trouble of creating, printing and handing out collateral in the hopes it will help you generate new business. Don't sit back and wait for the phones to ring. Be proactive and follow up with any leads and new connection within 24 to 48 hours after the event ends. This way you are still fresh in your prospects' minds.
Trade shows are, in one sense, exhilarating and in another sense, exhausting. But if you've prepped right, when the dust clears you will have solidified current business relationships and created many new ones. Your print marketing collateral can help you do this.
If you could use some help creating the right print collateral for your next event, please get in touch with us. We love helping business owners optimize their print marketing to help them reach their goals.