These days you can't throw a stone online without hitting a digital advertising agency looking to charge you an arm and a leg in exchange for ho-hum knowledge and service. As more businesses head to the Internet to market themselves and extend their brand reach, more and more agencies crop up claiming to be experts. But most of these "experts'" expertise is debatable.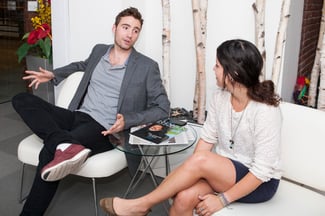 Before you sign on any dotted line or hand over your advertising budget, you'll want to ask the following eight questions to ensure your campaigns are in the right hands. And, as a heads up, if the representative you speak to is "too busy" to answer these questions, take that as your cue to run for the hills.
1. What is their real world experience in your industry?
Many digital ad agencies will try and impress prospective clients by giving them a large number of years they've been in business, but it doesn't matter to you if collectively they have 38 years in digital advertising. What you really want to know is what kind of experience they have in your particular industry. If they don't have practical experience running digital campaigns in your industry, ask them what other verticals are relevant.
2. Will they audit your account?
You're not asking for a full-blown audit here, just a light one so they can give you a 30,000 foot perspective on your current campaigns and insights on what they feel is working and what adjustments they would make.
3. What can you expect as far as communication?
You'll want to know right out of the gate what you can expect when it comes to having your phone calls and emails returned so ask about their response times. If they say they can typically respond within 24 hours, does that work for you or do you realistically know you require a quicker turnaround?
4. Who will actually be handling your account?
Don't assume the person you spoke with will be the one working on your account. In actuality it could be an intern who is doing most of the work. It's your right to know who will be responsible for your budget and campaigns.
5. Do they guarantee performance?
This one is a trick question, but very important to ask because no ad agency should guarantee they can get your website on page 1 of Google's search results or get you 10,000 new subscribers. If a prospective agency is making claims like these this is a major red flag. While it's important to set goals, nothing in life, especially life online, is ever guaranteed.
6. How do they charge for their services?
This is a simple question which requires a simple answer, nothing more. They should be able to say, "We charge X amount of dollars per hour." Also, for campaigns consisting of paid media, find out if they charge a percentage of spend or flat rates. Should they charge a flat rate, you want to also inquire what happens if you increase your spend, will their management fees increase also?
7. Are they able to provide a list of references?
A reputable agency will be more than happy to provide you with a list of references and you should absolutely follow up with these. Ask current clients how the agency has helped them reach their marketing goals.
8. Who are their ideal clients?
You've been seeking answers thus far to gauge whether they'll be a good fit for you, but you also want to know if they think you'll be a good fit for them. Find out what types of clients they like to work with and what they think a successful relationship looks like. For instance, if they mostly work with well-established brands and you are a small, local business with not much reach yet, it may not be a good fit.
These questions will hopefully help you choose the right digital advertising agency for your needs. Remember, you're not selecting a vendor here but a real business partner who will become an extended arm of your company, working with you to meet your objectives and grow your business.
Image credit: Pixabay