The holidays are officially upon us, which means many of us officially can't get Mariah Carey's "All I want for Christmas" out of our heads. If you have to have a holiday song torture you with repetition, I suppose you could do worse.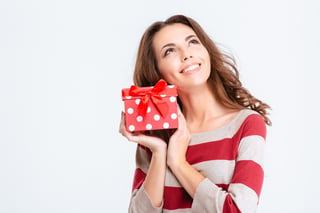 Along with buying stuff you're not really sure your loved ones will like or wear, you may be focusing on how you can take advantage of other's good cheer and get them to help give your 4th quarter revenue a final boost. Well, go grab a pen and paper and a giant mug of hot cocoa, because I'm about to share 9 marketing hacks small business owners can use this holiday season.
Optimize Your Adwords Campaigns
It doesn't matter what your product or service is, there's a way to make your Adwords campaigns more festive this holiday season. To do this, you simply want to switch from targeting shoppers to targeting holiday shoppers.
Optimize your campaigns by using keywords like "gifts for kids" or "holiday decorations." Once you've done this, be sure your ads point to landing pages that offer incentives to shop with you during the holidays. These incentives could be discounts, free shipping or complimentary gift-wrapping.
Have a Social Media Giveaway
To get more eyes on your business this season, consider running a holiday giveaway on your social media channels. People love free stuff all year-long, but they REALLY love it during the holidays. Entice followers with big discounts, free add-ons, or actual free booty (who wouldn't want a free Keurig machine, free bottle of wine, or a free holiday sweater?!). And don't forget to ask followers to share, like, and comment on your posts about the free giveaway to encourage even more engagement.
Create a Fun Holiday Youtube Video
Video marketing is something all business owners should be taking advantage of. Did you know that marketers who use video grow revenue 49% faster than marketers who don't? Get your employees together and create a fun holiday video about your business. If you can make prospects smile or laugh, you have a very good chance of getting their feet in the door.
Hop on the Instagram Ads Bandwagon
Instagram is one of the hottest social media channels right now, and many customers and prospects will be on there already posting images of their decorations. This is a great opportunity for you to get in front of them. Don your ugliest holiday sweater, take a stunning photo of your holiday window display, or a sumptuous photo of your freshly-baked ginger muffins… whatever it is, your own holiday pics will draw people in. But be sure to not only post pics to your own account but spend some of your marketing budget on paid ads as well.
Send Seasonal Emails
A great way to connect with customers this season is to get festive in your email campaigns. Just as you did with your seasonal Adwords campaigns, you'll want to be sure to optimize your subject lines with enticing keywords as well as use incentives to get people to shop with you. And don't forget to ask your subscribers to forward your holiday emails to friends and family.
Throw a Holiday Party
You shouldn't always focus on attracting new customers, sometimes you have to deepen the relationships with the customers you already have. And throwing a customer appreciation holiday party is a great way to do this. If your budget won't allow for a big shindig, then consider inviting only your hottest local leads or clients over for some holiday drinks and appetizers. More than the free eats, your customers will appreciate facetime with you.
Host a Holiday-Themed Twitter Chat
This is a great way to get customers to engage with your brand. Your chat could be about your products or services, allowing customers to ask you questions, or your chat could simply be on holiday trivia (Name the reindeer) to have a little fun. Never used Twitter Chat before? No problem, here's a comprehensive guide to get you started.
Set Up a Gift Certificate Display
Holiday shoppers have a lot on their mind and often find it hard to make purchasing decisions. Don't let those feet go out the door! By setting up a gift certificate display, you make it very easy for shoppers to buy something for everyone on their list.
Get Your Tech On
The easier you make it for shoppers to buy from you, the more sales you'll get. Consider hiring a developer to create a holiday app for your company that features all of your holiday specials. This makes for quick sales with those shoppers (particularly millennials) on the go.
No matter which of these hacks you try this holiday season, get in the spirit and have some fun! At the end of the day, being of good cheer is contagious and will inspire customers to buy from you.