The holiday season is upon us, and that means that small business owners around the country are trying to figure out how to up their marketing game to make their small, local business stand out from the crowd of local merchants, all vying for the almighty consumer dollar.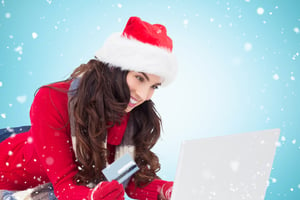 To help you make the most of the season, here are 9 holiday marketing ideas to stand out from the crowd:
Create a Marketing Plan
You will have a far greater chance of getting together the right budget, which can give your marketing efforts and edge, if you plan ahead. So you don't miss any important dates this year:
Thanksgiving falls on November 28
Black Friday on November 29
Small Business Saturday on November 30
Cyber Monday on December 2
We recommend you create a marketing calendar and work backwards from these key dates. You want to break down the actions you'll need to take to meet various deadlines. For instance, if you want to get your inserts into the local paper, when do you need to submit your ad? If you want to hold an in-store holiday party, how many extra staffers will you need and when to hire them by?
Leverage Holiday Cards
Most business owners recognize that the majority of their earnings come from repeat business and not new business. For this reason, it's important to thank your loyal customers that support you all year long by sending them a holiday card. If you want to do one better, consider throwing a "Thank you" party and offer discounts or even a free gift to get them in the door.
Don't be Shy with Signage
Though the economy has seen some recovery this year, there are plenty of shoppers who are going to keep a tight grip on their wallets this holiday season. These consumers will wait for the big holiday sales. So be sure you announce your BOGO and ½ off sales with prominent signage outside and inside your location.
Fawn Over Your Shoppers
While you should provide excellent customer service throughout the year, holiday shopper expect little extras like free gift-wrapping or personal shoppers to help them with their lists. You can also give excellent service by creating displays with prewrapped gifts for certain recipients such as "teacher gifts," "gifts for Mom" or "baby gifts."
Hold an Event
Fun, seasonal events are a great way to attract people into your store. You may want to consider a cookie-decorating demonstration, book signing or musical performance, depending on what you sell. Not only will you attract new people into your store, but your event will inspire them to spend while there.
Leverage Gift Cards
According to recent gift card surveys, gift cards remain the most popular item on wish lists, requested by 59% of survey respondents. Vantiv and eCard Systems are two companies that offer gift cards for small retailers. You may also want to check with your bank to see if they offer gift cards as well.
Think of ways you can package gift cards to inspire more sales. For instance, you can run a promotion where if customers buy a $75 gift card for someone else or $75 worth of merchandise, they can earn a $25 gift card for themselves to be spent in your store.
Tap Their Senses
Engage consumers' senses with colorful decorations, festive holiday music and seasonal scents like cinnamon or pine. And don't forget those taste buds. Customers need to refuel, so think about serving complimentary Christmas cookies and cider or cocoa. Once the word gets out, you'll see a lot more foot traffic.
Pair Up
Look for another local merchant with whom you can pair up and run cross promotions for each other. For example, you might say, "Buy $100 worth of merchandise and receive a 10% coupon off of merchandise at your partner's store. They will do the same.
You can also get a group of merchants together and hold a "12 Days of Christmas" giveaway where 12 retailers in your shopping center each give away a prize a day for 12 days. Be creative!
Take Part in Small Business Saturday
Started back in 2010, Small Business Saturday has grown in popularity over the last decade, as more and more consumers like the idea of supporting their local businesses. To get marketing tools, collateral and even more marketing ideas, visit the small business Saturday website.
If you plan it right and use your creativity, your small business stands to make a killing this holiday season.