Are Remnant Ads a Good Idea for Small Business Owners on a Tight Budget?
Newspaper advertising is still, hands down, one of the best ways to get your message in front of your audience. Particularly if your audience is part of the baby boomer generation.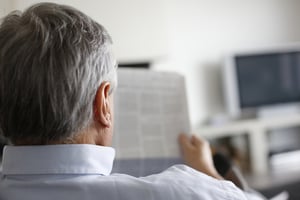 But not every small business owner has the same budget at their disposal. Average newspaper ad costs will depend on a variety of factors including the newspapers circulation numbers, the size of your ad, frequency of the ad, the day it runs and the type of ink used. As an example, a small, local newspaper may charge $12 per inch for a black and white ad. That means a 4x10-inch would run you $480. That same ad run in a national paper could run you $10,000.
Remnant Ads – A Good Way to Get Around Higher Costs?
If you're a small business on a shoestring budget, you may have heard about remnant ads and wondered what they were and if they could help you. Let's start with talking about what a remnant ad is.
Remnant ads are advertising spaces that the publisher has been unable to sell. This happens for a variety of reasons:
Lack of interest in the page or particular section of the paper
The cost of that space
Not enough local advertisers available that week/month
Newspaper publishers don't like empty slots the same way hotel owners don't like empty rooms. Both will lower the cost of space (room) to try and attract buyers. If there are no buyers, a newspaper publisher will be forced to fill that blank space with a public service announcement or some other kind of filler. They are much happier selling off that space at a discounted price.
So you can think of remnant ads like remnant carpeting – they are the leftover bits of newspaper space that no one else has claimed.
Are Remnant Ads a Good Idea for Small Business Owners on a Tight Budget?
There are definitely some pros and cons to remnant advertising. The obvious pros are that you can get huge discounts. It is not uncommon for a newspaper publisher to try and sell Spot A on Monday for $300 and then try and sell that same spot to you as a remnant for 75% off.
So, if you have a limited budget, remnant ads help you get access to media and gain some exposure for your new business. Those are the pros. Now let's look at the cons:
Would You Eat Discounted Sushi?
My local grocery store has a little section that sells sushi. Some days the sushi is sold at a steep discount. Now I don't know about you, but I am not too keen to eat discounted sushi. Why? Because there's a reason it's discounted. Most likely it's not all that fresh, but just how "unfresh" is it?
Going back to our earlier example of a hotel selling deeply discounted rooms – it sounds great when you are on a budget. But what do you know about the hotel? How far is it from the airport? What kind of amenities are in the immediate area? You often get what you pay for, and when you pay very little, you often get very little.
The old saying, "Beggars can't be choosers" comes to mind with remnant ads. Sure, you get an ad at a steep discount, but when it comes to placement and day it runs, you get no choice, as in ZERO. This means your ad can be run on a Wednesday and be way in the back of the publication, or in a section that isn't related to your product or service at all.
You also must have your ad ready to go at a moment's notice. But with no budget, how are you supposed to afford an in-house creative department that can jump on the campaign and get the paper the creatives it requires?
There is a Better Solution
Working with a media buyer will allow you to get your message in front of your audience for a great price. Media buyers have two things no business owner has:
A relationship with newspaper publishers. This allows them to negotiate great deals for their clients.
Buying power. Since media buyers place buys for multiple clients at the same time, they can usually get steep discounts, which they then pass on to their clients.
If you are working with a limited budget and think there is no other way to run print campaigns than to buy remnant ads and hope for the best, we beg to differ. Get in touch with us and we'll tell you exactly how we can help you save money on ads while getting the right exposure for your business.