Shopping in today's world is drastically different than shopping 20 years ago. Today, with a few clicks, consumers can order an item using their smartphones, tablets or personal computers. Some people even choose to grocery shop online to have their food delivered to their house. There's a reason online shopping is becoming so popular; it simplifies the customer buying experience. A report by Forrester Research found that on average, U.S. consumers will each spend $1,738 online in 2016, an increase of 44% from $1,207 in 2012.
This report further examined online shopper profiles and categorized American shoppers into three categories: Super Buyers, Connected Traditionalists and Traditionalists.
Super Buyers – make up 17% of online adults in the U.S. In general, they are early adopters of technology and are 63% male. Super Buyers are more likely to shop using all online channels
Connected Traditionalists – made up of 25% of online adults and have more women than men, with women at 53% and men at 56%
Traditionalists – make up 59% of online adults and are made up of 56% women
Check out the graphic below to learn more about what venues consumers use while shopping online.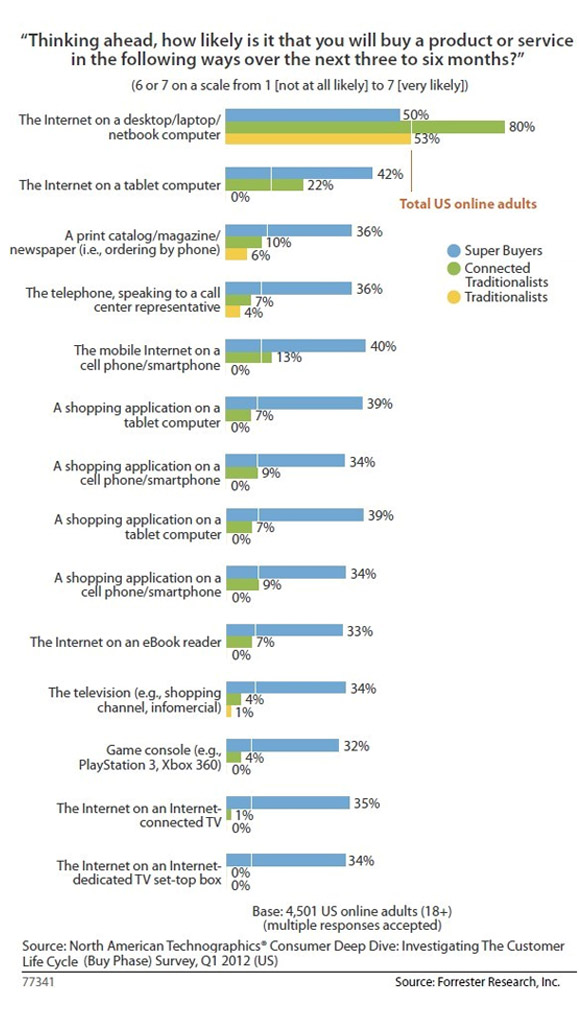 The Forrester report found that the growth in online spending comes from a few factors including:
Improvement of websites and services – "This is particularly true of categories such as apparel and jewelry, which have integrated rich selling tools such as zoom, color swatching, and configurators, as well as office supply stores, which have broader payment options and subscription plans for their buyers," writes Sucharita Mulpuru, one of the Forrester Research analysts
Online shopping has also increased due to online sales – 70% of holiday shoppers in 2011 made purchases online because of better deals
Online loyalty programs – 12% of online shoppers belong to programs like the Amazon Prime free shipping clubs
Online shopping has also changed drastically in the past two years due to the introduction of tablets. Besides personal computers, tablets and smartphones are the next two devices consumers use to do their online shopping. A recent report from the digital ad management company, Marin Software, found that 18% of paid search clicks come from either a tablet or mobile phone.
Though not surprising, the director of partnerships and research at Marin Software, Gagan Kanwar, said the increase in clicks from mobile devices is "incredible" given that in January 2011, mobile devices accounted for only 5% of paid search clicks. Kanwar also stated that tablets will likely overtake smartphones in paid search clicks in the near future. Why? Tablets are often bought to replace PCs. While tablet ownership is increasing, PC ownership is decreasing, resulting in more paid search clicks from tablets.
Clearly online shopping is on a steady increase but it isn't the only thing expected to increase. Online ad spending is expected to increase to more than $430 billion in 2012, a 20.2% increase from last year.
Not lost in all this data on online shopping: the fact that 36% of the Super Buyers still use print (magazines, catalogs and newspapers) for purchases. Most likely, the majority of this group (34%) are still using television as a method of purchase. What does this mean? Traditional advertising methods, including newspapers, magazines and television are still instrumental in creating an integrated campaign, even among early adopters of technology.
Want to learn more about integrating your print and online campaigns? Download our latest e-Book to read more!