Consumers today are not the same as they were just a decade ago. Expectations for engagement and personalization have definitely increased. Today's consumers want to be able to engage with their favorite brands via multiple channels such as social media, ecommerce platforms, mobile apps, a website, phone, chatbots and more.
This demand for ubiquitous interactions has caused CMOs to shift and innovate their messaging channels. The result? Ominchannel marketing, which allows brands to meet their customers wherever they may be.
What is it and Why Should You Care?
If you're new to the concept of omnichannel marketing, let's first define what it is. According to Hubspot, multichannel marketing is "a multichannel sales approach that provides the customer with an integrated shopping experience. The customer can be shopping online from a desktop or mobile device, or by telephone, or in a bricks and mortar store and the experience would be seamless."
Seamless is the word to focus on here. The ultimate goal of an omnichannel approach is to provide a seamless, integrated customer experience over multiple channels.
What is the Difference Between Omni-Channel Marketing and Multi-Channel Marketing?
If you've read this blog for any length of time you know we have spoken often about the importance of multi-channel marketing or integrated marketing. But how is this approach to engagement different than the omnichannel trend?
While both marketing paradigms use multiple channels, the difference lies in a brand's perspective.
With multi-channel marketing, a company tends to focus on maximizing the performance of each channel, no matter if that channel is digital or traditional. But an omnichannel approach puts the customer at the center of every strategy and engagement effort. Omnichannel marketing looks at consumer data and uses it to create the most efficient advertising system that meets consumers where they are and with messaging that matches their location within the sales funnel.
How Does Print Factor into an Omnichannel Strategy?
Remember, the goal of omnichannel marketing is to meet your customers wherever they may be. For many consumers, print channels are still the most trustworthy. So it makes sense to incorporate newspapers, magazines and direct mail campaigns into the mix.
The key to leveraging print channels is to make sure all of your print materials work well with all of your other channels. Here are some best practices for incorporating print into your omnichannel marketing:
Leverage Variable Printing
As I mentioned up top, consumers don't just want personalization, they have come to downright expect it. Variable printing allows brands to personalize their printed messaging. This can drastically improve ROI.
Use QR Codes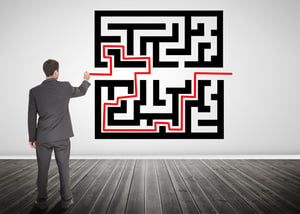 One of the best ways to link your print assets with your digital assets is to use QR codes on all print collateral. Once scanned, your QR code will send the customer to a specific landing page where they can find out more about what you have to offer.
Add Social Media Handles to All Print Material
Whether it's a newspaper insert, direct mailer, or magazine ad, you should always add your social media handles so your customers and prospects know how to connect and further the conversation.
Think How Your Print Campaigns Will be Used to Move the Prospect Through Your Funnel
It's no longer enough to focus on highlighting benefits when creating a print ad or printed piece of collateral. You've got to think of context when creating content. How will your print campaigns offer relevant and valuable information that moves the prospect along your sales funnel?
The days of simply creating ads and launching them with high hopes is gone. To be truly competitive and a leader in your market, you've got to give consumers exactly what they want. An omnichannel strategy is how brands can meet and even exceed consumer expectations.
Are you considering creating an omnichannel marketing strategy? If you could use some help putting together a seamless customer experience that uses print as well as digital channels, give us a call. We love getting clients the biggest return on their advertising investment.