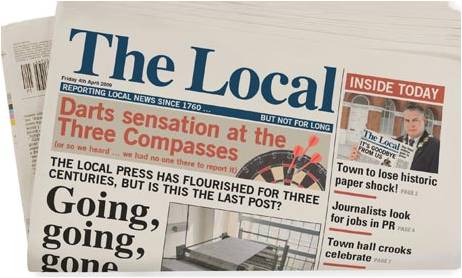 What concerts are happening this weekend? What will the weather be like for Saturday afternoon? What new restaurants have opened and what is their rating? Any coupons for the grocery store I could use? Where can you find the answer to all these questions? Your local news source. Many people do not realize how heavily they rely on local news. Imagine for a second what life would be like without it.
Pew Research Center recently released research on local news followers. Here is what you need to know:
72% of Americans follow local news closely
32% of local news enthusiasts say losing their local newspaper would have a major impact on them
35% of local news enthusiasts say local news sources give them every bit of the information that matters to them
Nearly 25% of local news enthusiasts are age 18 to 24
91% of younger local news followers are Internet users
40% of local news enthusiasts use a combination of traditional, online and mobile sources for their local news
Here's why this matters to advertisers: last week we shared a post on local advertising and why national brands need to include local in their marketing mix. Highly targeted ads not only allow you to reach your consumer, they also help create a local presence for a national brand. Making a personal connection with your consumer will lead to persuasion to purchase your product.
With people relying so heavily on local news sources for information, it makes complete sense to include these outlets in your mix. Reason being, you need to reach consumers where they are. And if you look at the research above, it's clear consumers are following their local news. The days are gone where you can pick one medium or outlet and expect to see a return on your advertising budget. The days are here when you need a mix that finds people in their locale.
Looking to advertise locally yet want to incorporate print and digital media? Look no further. Check out our most recent eBook below!