Welcome to part two of our three part series on the 10 Dazzling Benefits of Local Advertising. In part one we told you about the strength of readership in daily and weekly newspapers, how the local media demographics skew to consumers with dispensable income, and the focus consumers have when consuming different forms of media. Benefit number four piggy-backs nicely to the last point covered. Read on for the next three reasons you should be looking local when divvying up your ad spend and be sure to check back next week for benefits seven through 10. Enjoy.
#4: Less Distraction from Other Media – We all know the second screen phenomenon going on. Be honest, when was the last time you watched a television show or a movie without your phone or tablet in hand? I can't remember either. Even when we're on our computers our phones aren't far away and we're checking text messages or emails from one of six accounts. We're distracted. And our distraction level grows each day. The chart below outlines engagement with other forms of media with the first column being the activity we actually sit down to do. A lower score here means better performance. The nature of print has the innate advantage that it can't compete with itself. You cannot simultaneously read a magazine and a newspaper. What are you doing right now? Reading this blog, of course. But what else are you doing? Watching TV? Listening to the radio? We're training ourselves for multiple activities, most likely to our detriment. The key for advertisers is to figure out how to get your attention when you're most focused.
Simultaneous Engagement with Other Media
regularly engage in →

watching television

reading magazines

reading newspapers

listening to the radio

going online

while you ↓

watch television

---

11%

12%

6%

33%

read magazines

21%

---

---

13%

11%

read newspapers

25%

---

---

14%

13%

listen to the radio

11%

10%

13%

---

21%

go online

44%

10%

13%

24%

---
Source: MPA Magazine Fact Book 2012
#5: Trusted Source – We don't trust the media. Don't believe me? Take a look at the latest Gallup Poll. And now with election season upon us, our distrust is not going to decrease. However, there are differences between medium when it comes to where people put their stock and what they're actually willing to trust. I know, I know, don't believe everything you read. However, print tops the charts as the most trusted source of media. The chart below shows the most trusted sources of media for principal shoppers in the household by Index. Magazines and Newspapers are tied for first, followed closely by Television. The Internet and Radio actually under-index as a tusted source.
Media Sources Most Trusted by Index

Source: 2011 Doublebase GfK MRI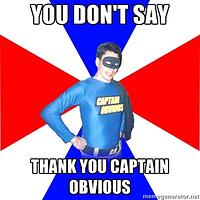 #6: Link to Retail – More often than not, the desired result of advertising is the purchase of a product by a consumer. I know what you're thinking, 'Thank you, Captain Obvious.' The purchasing is complicated and varies somewhat with the involvement necessary with the product. Some ads are brand advertising to help you recognize Captain Crunch when you go to the store, while other ads are directed to get you to 'Buy Now.' Print has a proven link to profitable retail results.
According to the 2011 "How America Shops and Spends" report, newspapers were the medium of choice when a consumer's intention was to be exposed to consumer advertising for the means of purchasing a product. Newspapers lead this indicator with 35%, followed by the Internet at 28%. Other categories measured include television, direct mail and catalogs. The study goes on to show that 84% of newspaper readers are looking for these print ads, whether it be ROP or preprint.
Now you have reasons four through six on the benefits of using local advertising. If you missed benefits one through three, check out Tuesday's post now. Coming up next week is the conclusion to this three part series. In the meantime, if you're looking to drive consumers to action, and who isn't, check out the CMO's Guide to Integrating Print and Digital Media.