We are back, one last time, for part three of this three part series on the 10 Dazzling Benefits of Local Advertising. In part one, we enlightened you on the power within daily and weekly newspaper readership, how demographics of local media consumers tend to trend towards people with dispensable income, and the focus people have when consuming different forms of media. In part two, we told you about the distraction as a result of consuming multiple forms of media at once, how print media is the most trusted media source for news, and how print media drives profitable retail results. Read on for the final four reasons you should be advertising locally when developing a media plan and determining where you will get the most reach.
#7 Web Synergy – Alright, we know it does not take a rocket scientist to figure this out. As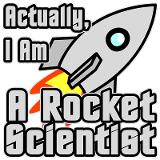 mentioned in the previous six benefits, the Internet plays a killer role in the purchasing process. Furthermore, 28% turn to the Internet when choosing to be exposed to advertising. According to the same study, 48% used the Internet for shopping, planning and purchasing choices. I know what you are thinking, 'Tell me something I don't know.' Print advertising plays an essential role in driving this behavior, did you know that? In fact, 73% of newspaper readers visited a website, used an online search, or made a purchase following an advertisement they saw in the newspaper. Likewise, 48% of magazine readers go online to locate more information about the print advertisements and the products/services being advertised.
#8 Digital Audience - In this ever-changing, ever-epic digital age, print has evolved to embrace online, tablet and mobile counterparts. It's true friends. One of the key findings in the State of News Media 2012 report is "no mattter what the device, digital news consumption continued upward in 2011" (Pew Center for Research). Need more facts? Sure you do. In addition, 51% of smartphone owners and 56% of tablet owners use their devices to access news. This sexy, cross-platform relationship allows consumers to interact with their media product of choice multiple times per day. What more could you ask for?
#9 Digital Complementary Demographics – The birth of digital editions has engaged a younger generation of newspaper readers by catering to the way they prefer to consume media. These tech savvy consumers are generally younger than the typical print newspaper reader, however they do still have a significant amount of disposable income. The chart below displays the age distribution of e-edition vs print newspaper readers. Take a peak.
Percentage of Readership by Age for E-Edition vs. Print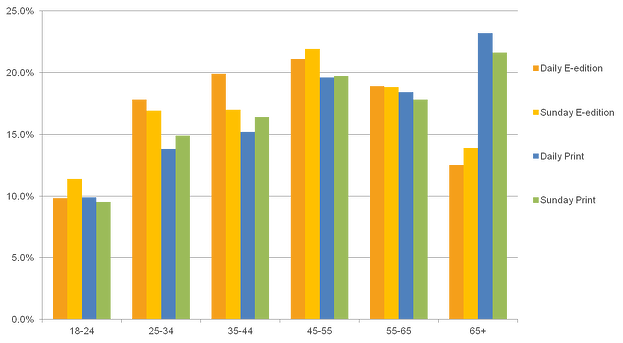 Source: 2011 Doublebase GfK MRI
# 10 Reaching People throughout the Day with the Right Media – Are you picking up what we are laying down? Research shows 54% of individuals utilize two or more media platforms to access and consume news content. Ridiculous? Not really. It's uber important to recognize that people consume news differently based on personal preference, where they are, and what they are doing. So what's an advertiser to do? Advertise on multiple platforms, of course! This provides synergy across platforms to reinforce your adverting message throughout the day. Need a breakdown? We have your back.
Individuals who dig print as a platform find it:

A relaxing way to read the newspaper
Provides a satisfying reading experience
An easy way to get a complete view of the news
Has useful advertising

Individuals who dig smartphones find it:

Easier to stay informed no matter where I go
Format friendly for sharing stories with others
Easier to search for further information

Individuals who dig desktop computers find it:

Easier to search for further information
Format friendly for sharing stories with others
An easy to stay informed no matter where I go
An easy way to get a complete view of the news

Individuals who dig tablets as a platform find it:

Easier to stay informed no matter where I go
Format friendly for sharing stories with others
Easier to search for further information
A relaxing way to read the newspaper
Platform usage varies throughout the day. Someone is less likely to be reading the newspaper before they go to bed than a tablet or Smartphone. What does is all mean? Delivering ads at the right place and right time is crucial for any successful multiplatform campaign. Want more facts? Check out the graph below.
Media usage throughout the Day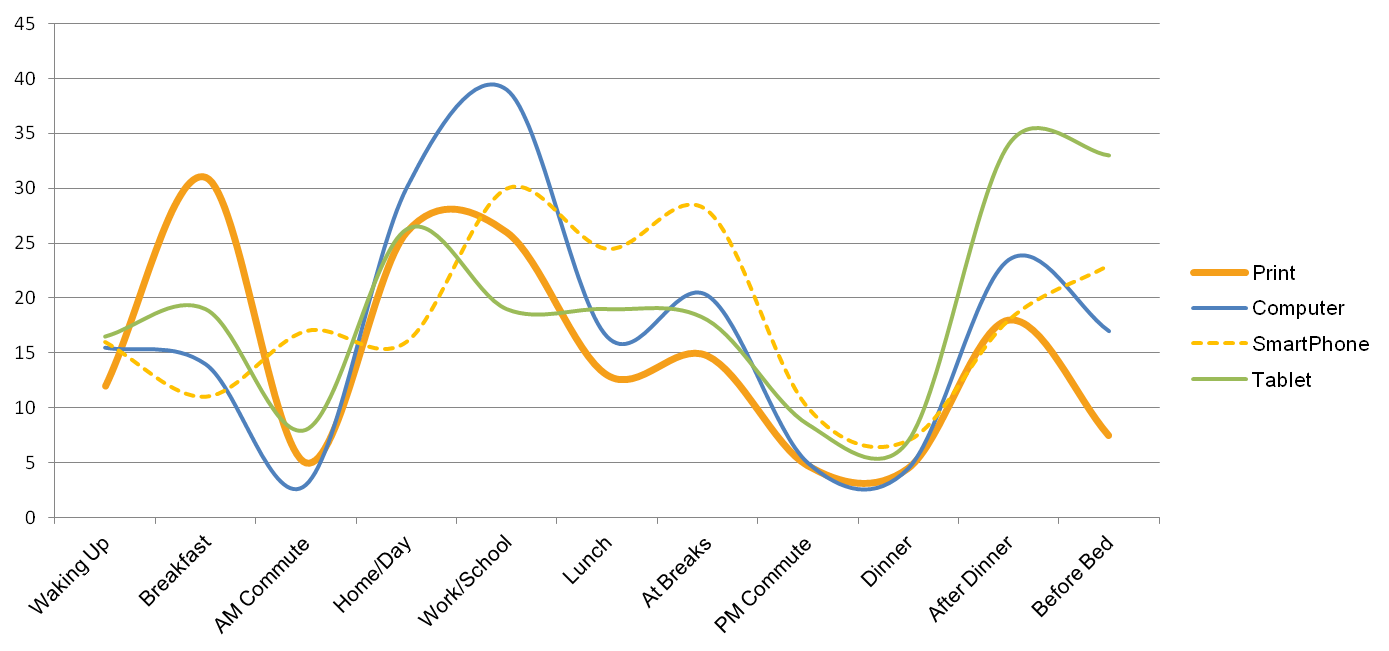 Question: Thinking of your typical weekday, when do you usually read or use a local daily newspaper in the following format? (N=1,896) Multiple mentions allowed. Newspaper Multiplatform Usage. NAA 2012
Now that you have the 10 Dazzling Benefits of Local Advertising, what should you be doing? Put them to great use, obviously! Did you not catch the previous posts on benefits one through six? Check out last Tuesday's and last Thursday's posts now. And don't forget, October 8 to 13 is National Newspaper Week with Saturday, October 13 being International Newspaper Carrier Day. Hungry for more insight on how to break through the clutter and get consumers to take action? Explore the CMO's Guide to Integrating Print and Digital Media for more answers. Also, if you're interested in the full research report, click the button below to download the all the data this blog series is based on.