National Newspaper Week is coming to a close, so I hope you've gained a little more knowledge about and appreciation for the newspaper industry and its continued relevancy during the past few days. This final post will provide you with some interesting facts you probably didn't kno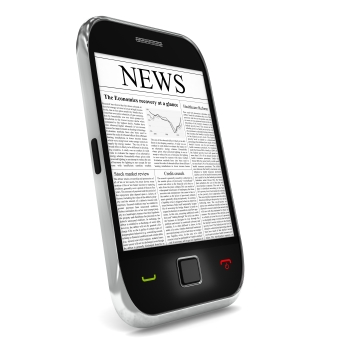 w about newspapers…until now.
Did you know that almost seven in 10 adults read a newspaper in print or online in the past week? Chances are you were one of them, but do you prefer a print or digital newspaper? The number of adults who get their newspaper fix on their smartphones or tablets has grown to 28 million per month. These readers are catching up on the latest news while on the bus or train, eating lunch, in line at the grocery store, hey, some even read the comics while going to the bathroom. A recent study, 'Magazine Media Readers and Their Smart Phones,' found that 83% of adults ages 18 to 34 who read magazines and own a smartphone have accessed or downloaded a magazine-branded app and 66% read or tapped on the advertisements.
When was the last time you responded to an ad in the newspaper? According to the Newspaper Association of America, 79 percent of U.S. adults have responded to a newspaper ad in the past 30 days. In case you didn't catch that I'll repeat it for you: 79 percent of U.S. adults have not only seen, but responded to a newspaper ad in the past 30 days. You'll be hard pressed to find another form of media that has type of response rate, much less reach. Newspaper advertising is still effective and at Mediaspace, we strive to maximize advertising budgets. Here's another interest
ing fact: 36 percent of adults claimed they did not read a newspaper in the past week, but they used one. Those uses vary from simply clipping coupons to alternative activities. Growing up, my grandma wrapped all our birthday presents in the "funny pages." I've used a newspaper to dry out my shoes after a run in the rain and I know others who rely on newspapers to keep their valuables safe when they move. I've even heard of some people putting down newspaper instead of landscaping fabric to keep the weeds out. Hey, whatever works I guess. In the comments section below, tell us how you use the newspaper after you're done reading it. We'd love to know.
Thanks for celebrating National Newspaper Week with us. If you're interested in learning how print and digital can work together, download our latest eBook, 'The CMO's Guide to Integrating Print and Digital Media.' Nothing reaches the local market as effectively as the newspaper. Daily or weekly, online or in print, there are serious benefits to advertising locally. If you want the top 10, download our report: '10 Benefits of Local Advertising.'