For many years, if you wanted to advertise your product, you had only one option: print. Take a look at the first Coca-Cola newspaper ad that ran in The Atlanta Journal in 1886. It is a black and white text-only ad with little creativity. Magazines and newspapers were (and still are) popular avenues for advertising. Then along came Polly, I mean digital advertising. Just to be clear, when I say digital advertising I mean everything that encompasses online, mobile and tablet advertising. These forms are steadily gaining traction. A recent report issued by the Interactive Advertising Bureau stated that digital advertising through June of this year has risen to $17 billion, which is a 14 percent increase from the same time last year. Now companies need to realize the importance and the benefit to utilizing both print and digital advertising. I mean, what's peanut butter without jelly? Or Bert without Ernie? Not as effective, that's what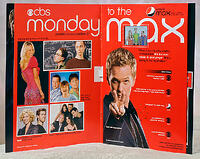 . They go hand-in-hand and so should print and digital advertising.
Back in 2009, CBS and PepsiCo teamed up to create a video ad. A paper-thin interactive video player was inserted in the September 18 issue of Entertainment Weekly. The 2-inch-by-1.5-inch video screen featured montages of "How I Met Your Mother" and "Two and a Half Men," along with an ad for Pepsi Max, and demonstrated that TV networks and advertisers are seeking new technologies to communicate with consumers. "Any time you can make your advertising more interesting, it's always beneficial," said Paul Craine, president of the style and entertainment group at Time Warner, which publishes Entertainment Weekly. Due to production costs, this ad was limited to the Los Angeles and New York markets.
Earlier this month the CW Television Network took an innovative approach to promoting its fall lineup. They placed a print ad with an LCD screen in Entertainment Weekly. From the previous example, we know print magazines have been using LCD video inserts since 2009, but this screen included a live Twitter feed featuring the six
latest tweets from the CW, in addition to the video. According to Rick Haskins, executive vice president of marketing and digital programs at the CW, the purpose of the ad was to solidify the CW as a leader in digital and social thinking and execution. "We're always trying to look at things that are first to market, that are really going to let people know that we are a digital network and that digital media is part of our DNA," said Haskins. That's true print and digital advertising integration right there.
The October 15 issue of Sports Illustrated features an ad for the 2013 Lexus ES. To the untrained eye, the full-page magazine ad is a standard automaker advertisement, but it is anything but ordinar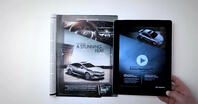 y. The ad includes next generation technology available to iPad users that is sure to capture attention. iPad users can upload a video at Lexus.com/stunning and then place their iPad in the magazine under the print advertisement. When they press "play" on their iPad, they will see the Lexus ad instantly spring to life with lights, music and motion. Lexus has coined this advertising CinePrint™ Technology. With CinePrint™ Technology the reader gets a multi-sensory experience. For Lexus, the days of static print advertising may be gone.
In what ways are you combining print and digital advertising to remain competitive in this ever-changing marketplace? Tell us in the space below. Also, if you are interested in learning more about how print and digital can work together, download our latest eBook, 'The CMO's Guide to Integrating Print and Digital Media.' Print and digital advertising are the latest dynamic duo. What will advertisers think of next?
Hannah Hill is a marketing specialist at Mediaspace Solutions. Her marketing experience includes writing, social media and event management. You can connect with Hannah on LinkedIn, Facebook or Google+.