Talking about the benefits of combining print and digital media is nothing new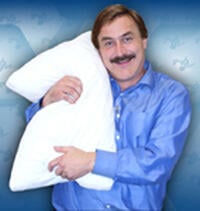 on this blog, so hopefully you're used to it now. The reason being, there are a number of benefits and methods to do it. The choices really are endless and the frequency and exposure you can get with similar audiences across both platforms can work in your favor. But you need to know how to do it well, and be able to measure your success so you know how well it's working.
One company that's all about tracking the return on each and every advertising dollar spent is MyPillow®. Mike Lindell, CEO of MyPillow® started his company because, like many people, he couldn't seem to get a good night's sleep. In his own words, "I would wake up in the morning with a sore arm, my neck would hurt, my fingers would be numb, and I would toss and turn all night not knowing why. I tried many different pillows on the market and none of them worked." Because of his own difficulty, Mike came up with MyPillow®, and since its introduction more than seven years ago, the pillows have been selling like gangbusters, and the feedback has been extremely positive.
Mediaspace had the chance to sit down with Mike and hear about how he started his company, his methods for advertising and what he's found successful, and the sleep study he's currently conducting, in which he's discovering where sleep comes from. You can download the full interview here, but below we've included a few highlights. Enjoy.
Mediaspace: What have been some of the key learnings you've taken away from the different businesses you've started?
Mike: One of the best things an entrepreneur can do, if they lack knowledge or experience in a particular area, is find someone who has been in the business a long time and pick their brain or offer them a job. I have more than 500 employees and I couldn't have gotten this far without them. I have been very fortunate in bringing the right people on board to compensate for my weaknesses.
Mediaspace: What is one way MyPillow® is making or breaking the rules versus just abiding by the rules?
Mike: The concept of breaking the rules goes hand in hand with the book I'm writing titled Against the Wind. Many people tell me I have to take my advertising to the next level, but why? It's working. When my print ad came out in the New York Times I got calls from big companies offering to help me with my advertising strategy, but I didn't want their help because my ad was hugely successful. That ad has been running for more than a year and it's been one of the most successful print ads in the United States. MyPillow® has broken every advertising rule in the books.
Mediaspace: What are you doing to make direct response advertising so effective?
Mike: We are effective because of my personal story. People are buying into the story because it's a real story from someone who has struggled with the same problem. They know I'm telling the truth and my customer testimonials speak for themselves.
Mediaspace: As an established business leader what's the one thing you spend the most time thinking about?
Mike: My company affects thousands of lives and I think about that all the time. Additionally, I'm always thinking about new products. I've got a lot of big ideas for the second phase of MyPillow®.
Get the full interview now and if you're interested in learning more about integrating print and digital advertising, download our latest eBook.
Scott Olson is the director of marketing at Mediaspace Solutions. His career has spanned marketing positions in the non-profit, software and utility sectors providing various marketing experiences.You can connect with Scott on Facebook, Google+, Twitter or LinkedIn.