I start every Sunday morning the same: sifting through the insert section of the newspaper while eating my breakfast. It's my own personal breakfast of champions. Money saving champions, that is. As a fairly recent college graduate who is currently pursuing an MBA, I have to be smart with my money and stretch it as far as it will go. I have learned to shop for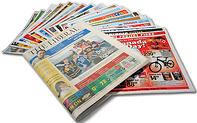 groceries on Saturdays because a limited amount of coupons will be doubled by a local grocery store, enabling me to get more bang for my buck. Clipping coupons from the paper and downloading online coupons have enabled me to save a whole lot of money while also introducing me to new brands, restaurants and retailers that are now among my favorites. When it comes to advertising via local print and digital coupons, brands are realizing success through a variety of channels.
How many of you actually read the newspaper for the news? Many people seek out the insert section of their local paper to aid in purchasing decisions. In a recent blog post, we looked at what would happen if preprint newspaper advertising went away and learned that people across generations would shop less without inserts. In fact, according to Millennials, inserts are the only section of the paper they read. Local advertisers should take note and provide consumers with coupons to drive traffic and increase visibility, not to mention favorability among the frugal minded. This is especially true for emerging companies and new products.
Direct mail advertising is another way you can get print coupons in front of your target demographic and it can help you bring in new customers as well as retain your loyal customers. Many direct mail advertisers enable you to target your preferred customers by ZIP code which allows you to be smarter with your advertising budget. It's important to note that direct mail should not be synonymous with mass mail. Invest time and money into ensuring you are mailing your ideal customer, otherwise your coupons will likely find themselves at the bottom of a recycling bin resulting in nothing more than wasted resources. Direct mail campaigns should be built in such a way that you can easily track success. Including promotion codes and expiration dates on your coupons will help you to more effectively measure results. Remember, the key to a successful direct mail advertising campaign is making an offer (such as a free product or special discount) your audience won't be able to refuse.
The U.S. Postal Service is currently running a promotion through the end of April 2013 to encourage direct mailers to incorporate digital technology (think QR codes and the like) on their mailings. Advertisers who integrate print and digital can receive a two percent discount
on postage for Standard Mail®, Nonprofit Standard Mail®, and First-Class Mail® letters, flats and cards (presort and automation). If you're new to our blog, we often stress the importance of integrating print and digital media (see our eBook on the topic), so we are happy to hear the U.S. Postal Service is running this promotion for its third consecutive year. The USPS promotion, through the use of direct mail mobile coupons and click-to-call, "seeks to drive awareness and increase the value of direct mail coupons in today's digital world."

As with all things media, digital coupons are increasingly growing in popularity. Daily deal sites such as Groupon and Living Social continue to advertise local businesses while offering coupons. I found my hair stylist through Groupon and am now a loyal customer, thanks to a digital coupon. Companies like Domino's Pizza include a coupon tab at the top of their homepage and still others offer coupons to their social media networks on a daily basis. Think about what makes the most sense for your business and get out there.
To advertisers: consider couponing to local audiences in both print and digital formats. To the rest of you: seek out coupons to try new businesses and tell your friends to do the same. If you're interested in learning more about the benefits of local advertising, download our research report titled 'Ten Benefits of Local Advertising.'
Hannah Hill is a marketing specialist at Mediaspace Solutions. Her marketing experience includes writing, social media and event management. You can connect with Hannah on LinkedIn, Facebook or Google+.