As the rain and snow continue to fall this April I'm beginning to wonder if we'll ever see those May flowers the seasonal rhyme promises. Advertisers across multiple industries are getting down and dirty in their advertising campaigns this spring, doing almost anything to capture the consumers' attention. Below are a few examples of irreverent, racy and suggestive advertising campaigns released throughout the month of April. Parental discretion is advised.
"I just shipped my pants."
Kmart's new commercial has been flying across the interwebs since it was released earlier this month. Replace "shipped" with a naughty four letter word and you'll understand why this ad is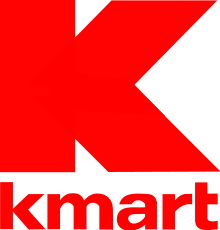 getting so much attention. The commercial was created to market Kmart's new Shop Your Way rewards program which allows customers to have products shipped to their homes at no cost. Throughout the commercial customers of all ages tell the salesman they've just shipped their pants, their nightgown, even their bed. Yes, some are saying Kmart's new ad is immature and irreverent, but even still, it has generated buzz which is a success in itself. Plus, everyone can relate to the ad in some way because everyone poops, though maybe not in or on their Kmart goodies. Take a look at the commercial if you haven't already seen it. But be warned. You might laugh so hard you ship your pants.
"I want to show off my new ass."
Weight loss company SlimFast has embraced a new, provocative style to advertising. Their new "Get What You Really Want" campaign shows socially acceptable reasons for losing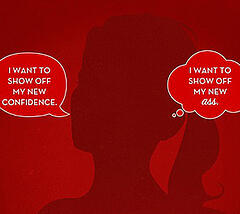 weight in speech bubbles while revealing the real reasons women have for losing weight in thought clouds. For example, one ad variation has the woman saying, "I want to show off my new confidence," while she's really thinking "I want to show off my new ass." A second variation depicts the spoken motive "I want to get into my new pants," but the woman is really thinking, "I want to get into someone else's pants." While bawdy, these ads are getting attention among consumers and the media. Who knows? They may even provoke promiscuous women to start using the SlimFast product line if it means they'll be more apt to get some action.
"With pulled pork on a cheeseburger, it's barbecue's best pair."
Well, it's obvious this Carl's Jr. TV commercial is geared toward BBQ-lovin' men as it features two bikini babes who get hot and steamy while cooking up a burger and some BBQ. It's

cheeky, to say the least, portraying more than your average hamburger buns. New Zealand officials were so repulsed by the ad that they banned the TV commercial saying it was sexually explicit and degrading while using unnecessary sex appeal to advertise an unrelated product. But that didn't stop Carl's Jr. from advertising to their New Zealand fans. They simply took a different approach: radio. Carl's Jr. created a radio ad, leaving the visuals up to the imagination, which is arguably even more suggestive than the original commercial when you consider even just this line: "It's just attractive bikini-top-wearing women and flying meat ... and they want each other — oh hold on a minute, they want the burger." Needless to say, Carl's Jr. got the final word in this argument and probably a little extra business.
Even if racy, provocative advertising is your style, you still need to make sure you are taking advantage of the benefits of integrating both print and digital media into your advertising campaigns. Download our eBook "The CMO's Guide to Integrating Print and Digital Media" to learn more.
Hannah Hill is a marketing specialist at Mediaspace Solutions. Her marketing experience includes writing, inbound marketing, social media and event management. You can connect with Hannah on LinkedIn, Facebook or Google+.