With less than a week until Mother's Day, get ready for the uptick in ads geared toward mothers and their loved ones. According to Experian Marketing Services, Mother's Day email campaigns sent within two weeks of the holiday receive 80% of the transactions and 75% of the revenue. If you're an advertiser for products Mom is sure to love, then it's not too late to create an email campaign and cash in on the business of the last-minute shoppers. Experian Marketing Services also discovered that advertisers who build urgency into their subject lines using phrases like "last day" or "final hours" achieve more than double the transactions of other Mother's Day mailings. You shouldn't need further convincing to amend your subject lines. In honor of Mother's Day, let's take a look at some brands that have relied on moms to help sell their products for years.
Campbell's Chunky Soup
Campbell's Chunky Soup first aired its Mama's Boy campaign in 1997 with the late NFL defensive end Reggie White and his mother. Actually, it was a paid actress pretending to be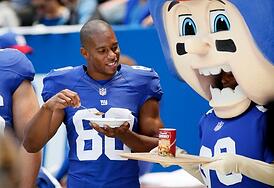 his mother. With the help of the Mama's Boy ad campaign and NFL football players Reggie White, Jerome Bettis and Donovan McNabb, to name a few, Chunky Soup revenue doubled from 1997 to 2002. Talk about effective advertising. This television advertising campaign was enjoyed by mothers and sons throughout the sporting community and beyond for more than a decade with many a household familiar with the slogan "Did you eat your Chunky Soup?" What made this ad campaign successful was the company's use of celebrities. When celebrities take the forefront in commercials or other advertising vehicles, they influence consumer purchases while building awareness for the brand. Additionally, the Mama's Boy campaign spoke to mothers and had them thinking if Chunky Soup was approved by professional athletes and their mothers, then they should buy it for their families, too.
Jif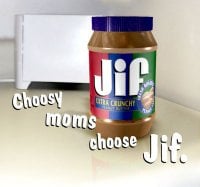 Since this cheesy commercial was created in 1977, choosy mothers have been choosing Jif. I remember begging my mom to buy Jif peanut butter and using the infamous slogan on her a few times so we could try it, but my mom was (and still is) a pretty big fan of Skippy. Was my mom a bad mom for not choosing Jif? No. But that advertising campaign planted a seed and I'm willing to bet a handful of mothers never bought Skippy or Peter Pan again. When you are able to influence consumers to the extent that they start throwing dollars in your direction or become brand loyal to your product over that of your competitors, then you're doing something right with your advertising. Way to go, Jif.
Hallmark
Since Mother's Day is the third largest card sending holiday in the United States, Hallmark deserves to be mentioned as they have been creating Mother's Day cards for nearly a century. With a slogan like "when you care enough to send the very best," it's no surprise Hallmark has created some great advertising campaigns through the years; and the best ones seem to be geared toward moms and Mother's Day. Television ads like this one pull at our heartstrings and make us cry, usually happy tears, and ultimately get us to buy Hallmark cards. Hallmark's use of emotional advertising has been their ticket to success.
When it comes to creating a successful advertising campaign, mother knows best. Whether you are currently running a Mother's Day email campaign, television commercial or print ad, remember that an integrated advertising campaign is the way to go. Download our eBook 'The CMO's Guide to Integrating Print and Digital Media' and learn how you can reap the benefits of multi-channel advertising for next year's campaign. To my mom and other mothers who happen to read this post in its entirety, I wish you the happiest of Mother's Days.
Hannah Hill is a marketing specialist at Mediaspace Solutions. Her marketing experience includes writing, social media and event management. You can connect with Hannah on LinkedIn, Facebook or Google+.