As more and more readers put down the traditional print newspaper and begin reading online, newspaper publications will continue to scramble to find ways to make up for millions of dollars in revenue once earned in print advertising. And despite conventional wisdom, investments in digital advertising have proven unable to make up for even a modest portion of dollars print advertising once collected. In hopes of soothing these glaring revenue losses, publications have recently turned to paywalls, or a system used by publications that stops readers from viewing online content in the absence of a paid subscription. And for several newspapers worldwide, these paywall systems are proving to be successful money-makers.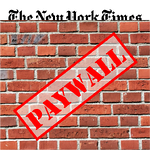 Historically, advertising has been central to the financial success of newspaper publications. And it will continue to be in the future. But can digital forms of advertising ever overcome the consequences presented by paywalls? Many experts in the field argue that a decreased online audience and slower page traffic induced by paywalls are among the many issues that digital advertisers currently face. Let's face it, paywalls are here to stay, so digital advertisers have their work cut out for them. But there is hope for the future. Here are three reasons that illustrate why digital advertising and paywalls can coexist going forward.
1. Digital advertising is holding steady
According to Pew Research, nearly 450 of the nation's 1,380 daily newspapers now have some sort of paywall system in place for online content. Consequently, overall page views are down. So if paywalls decrease the number of readers that have access to online content, shouldn't digital advertising in newspapers be taking a nose-dive? The answer, in fact, is no. The same Pew Research points out that 2012 digital ad revenue in newspapers actually grew by 3%. Now, 3% in total revenue won't light up any quarterly reports, but it's a push in the right direction. As advertisers begin to learn more about swiftly growing online techniques like sponsorship and video advertising, they will begin to be able to incorporate these strategies into online publications that could one day bump 3% yearly growth all the way up to at least 6 or 7%.
2. Online newspaper ads are engaging
Contrary to popular belief, readers really do engage with advertisements found throughout
online newspapers. Paywall or no paywall. In fact, advertisements appearing on the radio, television, and the rest of the Internet all have lower overall consumer engagement rates than online newspapers. This survey conducted by Newspaper Association of America shows 43%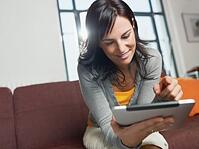 of consumers usually notice advertising found on national newspaper websites, and 40% found on local newspaper websites. This compares to the 37% of consumers who usually notice advertising on social networks, and 39% who observe ads on TV. Furthermore, those surveyed made it clear they are more likely to make a purchase after seeing an ad on a local newspaper website (32%) than they are after listening to local news radio (29%) or watching cable TV (26%). Bottom line: Digital advertising continues to be an engaging ad platform, even in online newspapers that employ paywalls.
3. Paywalls build a narrower and more connected audience
As a result of paywalls, more specialized audiences have and will continue to take to online newspaper publications. Paywalls essentially weed out the casual reader and attract more engaged consumers, that is, few will pay for content that doesn't interest them. The subscribers that do pay for access represent a group of plugged-in consumers that have a vested interest in the content for which they must pay. For advertisers, this result should open the door for more focused digital advertising campaigns: fill online newspapers with content-specific advertisements that are relevant to the topics consumers are reading about. The more relevant an advertisement is to content found on a newspaper webpage, the more likely a subscribed consumer will be interested in the advertisement.
For now, digital advertisers are just scratching the surface as to how they can use paywalls to their advantage in online campaigns. If you're interested in learning how to improve your digital advertising reach, check out our eBook titled the CMO's Guide to Integrating Print and Digital Media. It explains that in addition to digital advertising, keeping print advertising in the mix will help maximize the effectiveness of your campaign.
Kyle Stowe is a marketing intern with Mediaspace Solutions. He will begin his senior year at the University of Minnesota this fall majoring in journalism with an expected graduation date of May, 2014. His previous internships include stints with Clear Channel Media and Entertainment and the Walt Disney Company. You can connect with Kyle on Twitter, LinkedIn, and Google+.