If you ask me, it's just a matter of time before this is a reality. It's the middle of June and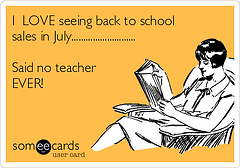 already the back-to-school advertising and inventory is in full effect. Before we get too far into the details, let's make sure we're all on the same page: we're headed for one big holiday season, and by creating ValenPatIndeB2SHalloThanksMas we combine Valentine's Day, St. Patrick's Day, Independence Day, Back-to-School, Halloween, Thanksgiving and Christmas. That way retailers have the opportunity to advertise year-round for any holiday that fits their inventory or their mood. They're pretty much doing it already.
It's mid July and in Minnesota that means most schools really are 'Out for the Summer.' Yet just last weekend I was in Walmart [see the side note later for my personal take on this one], and guess what I saw? I'll tell you. On the endcap was the latest version of the trapper keeper, hanging from the ceiling was an oversized 'Back-to-School' cardboard cutout, and the aisle bins were full of pencil boxes and 1,000 color crayon sets. IT'S MID JULY. The kids have hardly been out of school and now we're pushing them back. If you think this is all in my head, check out this story from Ad Age.
Real quick, let me give you the breakdown of where we're headed: before your candy hearts have all turned to insulin you'll be buying green beer. You'll hardly have time to pour your last 12 oz. from its transportation vessel into your favorite glass and it'll be time for fireworks. Once you get to your last wick and punk as you do your best not to blow your hand off you'll be headed to your favorite local retailer for backpacks, folders and pencils. While Labor Day isn't included in ValenPatIndeB2SHalloThanksMas we all know that's the time for one last hurrah with your grill and deck seating in the backyard. Well, before the grill is even cooled off enough to cover it your wife will be walking in with the kids and their Ironman 7 costumes, not to mention all the Halloween candy that you'll eat before the Fall Equinox. Don't worry, we're almost there now, because you'll have to take the candy you hid from yourself out of the freezer to make room for the turkey you bought a month ahead of time just to be sure you got one. Here's a tip: the grocery stores never run out of turkeys. But we've been duped to think otherwise, so it's better to get one early. Finally, we can check Christmas shopping off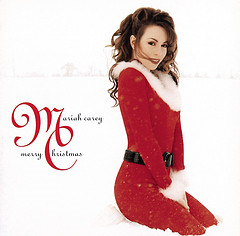 our list before we sit down for yams and stuffing since we've been hearing Nat King Cole and Mariah Carey's Christmas albums played at retailers since October 25.
You might think I'm joking, but isn't it already approaching this? Before we even catch our breath from one holiday the next is being forced down our throat. Luckily, there is still some sensibility in today's retail world. Amazon.com, you've heard of them right, is infusing humor into the situation. On their back-to-school landing page visitors find "Shopping for back-to-school supplies already? We hate to tell you ... you're early." Hopefully this approach takes the day and some sense of sensibility returns. I don't want to think about sending my kids off on the bus when I'm throwing them off the diving board before settling in for an evening of fireworks and sparklers.
As promised, here's my take on Walmart: it's a big business that has been very successful. Good for them. For me, it's kind of a big deal to head into Walmart because I try my best to work with the locals. Stores like the local Ace Hardware Store, the independent grocery store, Fleet Farm, Menards and even Target, [although international, they're based in Minnesota so it works in my head] are my preferred retailers, with Walmart being a last resort. But my son needed a life jacket and Walmart was our last hope. Even they were out, so I guess I'll have to pay attention and make sure his head stays above water.
If you want to know the benefits and advantages of local advertising, check out our research report titled '10 Benefits of Local Advertising.'
Scott Olson is the director of marketing at Mediaspace Solutions. His career has spanned marketing positions in the non-profit, software and utility sectors providing various marketing experiences. You can connect with Scott on Facebook, Google+, Twitter or LinkedIn.