One of my duties as a marketing specialist at Mediaspace Solutions is to manage the company's social networking profiles. This means sifting through the clutter and pulling out not only what is relevant to our followers but also the unique, innovative and fresh. The first hour of my work day is spent scanning our Twitter feed, monitoring our Social Inbox and reading numerous emails from AdAge, MediaPost, Mediabistro and the like. In a world where attention spans are diminishing and time is becoming even more scarce, it's especially important for advertisers to break through the clutter with innovative advertising. The following tweets featuring innovative advertising recently captured my attention and it won't take you long to see why.
@Adweek: Painfully fun: Waxing salon invites you to rip wax strips off a human tear-off flier http://bit.ly/15HpTaY
Talk about a walking advertisement for Toronto's Fuzz Wax Bar. Take a look at this video clip featuring a very brave man and a lot of unwanted hair.
The salon's human flier attracted a lot of attention as he moseyed down the street along with a promotions team. Toronto citizens were encouraged to rip off his chest hair (and hair from other regions), and in exchange, they received a coupon for 25 percent off their next wax. I'm not sure if that's coupon marketing at its finest or furriest, you be the judge. Hopefully the coupons are still redeemable sans fuzz, especially since the salon promises to "take the monkey off your back." There's no false advertising in this salon's slogan either; they're all about full disclosure: So good, it hurts.
@Adweek: Crazy @Heineken stunt at JFK Airport wants only the most adventurous travelers http://adweek.it/157VwbE
I don't think I'm adventurous enough to take advantage of what's being offered in this Heineken ad, sober or otherwise, so it is clear to me that I'm not part of Heineken's target market. That being said this ad is attention-grabbing and engaging, to say the very least. The bottom of the ad board includes this tagline: "See what happens when someone travels outside their comfort zone." Portugal, Laos, Cyprus, Thailand, Morocco, the destinations are limitless. Would you be willing to press the button and take your chances with Heineken's Departure Roulette? Let me know in the comments section below. I'll be following @Heineken to see how these #Dropped adventures turn out. Lucky for Heineken, they gained a new follower who doesn't even drink beer.
@Adweek: Giant dragon skull that washed up on a beach in England is an ad for Game of Thrones http://adweek.it/1bJ9vJK
What would you do if you stumbled upon a 40-foot-long dragon skull washed up on the beach? My guess is you'd probably tell someone about it which is exactly what the advertisers behind this Game of Thrones ad want you to do. This isn't the first time we've featured a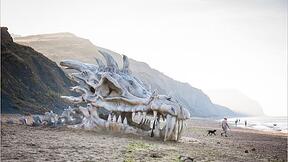 Game of Thrones ad on our blog. If you missed the innovative print ad they ran in the New York Times earlier this year, check it out here. The print ad was coined "one of the coolest ad campaigns ever" and it's likely that the beached dragon skull will gain similar praise from consumers and advertising enthusiasts. I don't watch the TV show or know anything about it, but thanks to the innovative advertising campaign, I know it has a thing or two to do with dragons. Game of Thrones has done a great job of increasing brand awareness among consumers through a variety of media. Those involved with the advertising campaign have shown that innovative advertising really does break through the clutter.
Take a minute to think back about the ads you've been exposed to during the past week. Chances are the most innovative ads are the only ones that left lasting impressions. Download our Shatter the Status Quo (STSQ) interview with Chris Boothe, CEO at Spark, to learn some of the ways he motivates his employees to consistently come up with innovative ideas.
Hannah Hill is a marketing specialist at Mediaspace Solutions. Her marketing experience includes writing, inbound marketing, social media and event management. You can connect with Hannah on LinkedIn, Facebook or Google+.